Ask Me Anything (2014) DVDRip x264-FUTiL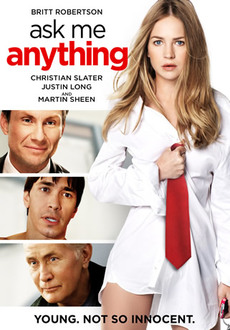 OPIS FiLMU: Główną bohaterką opowieści jest Kate, która postanawia na rok porzucić szkołę, aby się odnaleźć oraz poradzić sobie z problemami rodzinnymi, w tym z ojcem alkoholikiem. Wszystkie swoje perypetie dziewczyna opisuje na bieżąco prowadząc anonimowo bloga.
Plot: Beautiful, wild, funny, and lost, Katie Kampenfelt takes a year off before college to find herself, all the while chronicling her adventures in an anonymous blog into which she pours her innermost secrets. Eventually, Katie's fearless narrative begins to crack, and dark pieces of her past emerge.
Tytuł..: Ask Me Anything
Produkcja..: USA
Gatunek..: Dramat
Czas trwania.: 100 min.
Premiera..: 19.04.2014 – Świat
Reżyseria..: Allison Burnett
Scenariusz…: Allison Burnet
Aktorzy..: Britt Robertson, Justin Long, Martin Sheen, Christian Slater

Ask Me Anything (2014) DVDRip x264-FUTiL
http://notepad.cc/ask-me-anything-2014-dvdrip-x264-futil
Ask Me Anything (2014) HDRip XViD-juggs