Maina (2013) DVDRip x264-RedBlade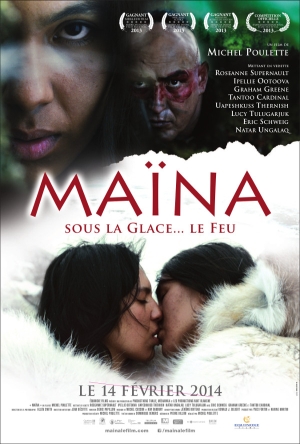 OPiS FiLMU: Gdy innuickie plemię znad "Wielkiej Wody" po raz pierwszy spotyka swoich pobratymców z "Krainy Lodu" dochodzi do krwawej konfrontacji. Córka wodza Mishtenapuu musi wyruszyć w misję, która może zapobiec dalszemu rozlewowi krwi.
PLOT: Maïna is the daughter of the Innu leader Mishtenapuu, who attends a bloody confrontation between his clan and the clan of "Men of the Land Without Trees." Following this confrontation, Maïna chooses a mission that will change her life. To fulfill the promise that she has made to her friend Matsii on her deathbed, she embarked on the trail of their enemies to deliver Nipki, a 11 year old boy that the Inuit have captured. But she was also taken as prisoner by Natak, the leader of the Inuit group, and forcibly taken to the Land Without Trees.
Director: Michel Poulette
Writers: Pierre Billon, Dominique Demers (novel)
Stars: Reneltta Arluk, Tantoo Cardinal, Graham Greene
Maina (2013) DVDRip x264-RedBlade