Honeymoon / Miesiąc miodowy (2014)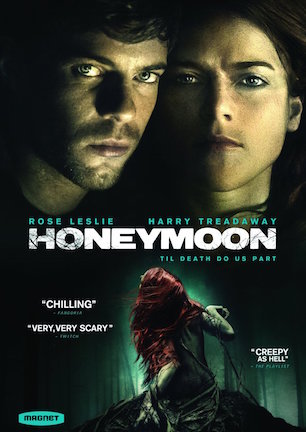 GATUNEK: HORROR, LEKTOR.PL
OPIS FiLMU: Bea i Paul postanawiają spędzić miesiąc miodowy w zacisznym domku nad jeziorem. Pierwszej nocy mężczyzna znajduje nagą żonę w środku lasu. Bea nie wie, jak się tam znalazła. Z czasem jej zachowanie robi się coraz dziwniejsze. Staje się zimna i niedostępna. Paul próbuje odkryć, co wydarzyło się tamtej nocy.
PLOT: Bea (Rose Leslie) and Paul (Harry Treadaway) are newly married and off to have a romantic honeymoon in a rustic cabin set in a secluded forest. During their stay there, they go to a small restaurant whose owner initially acts hostile, asking them to leave, but later calms down, realizing he was Bea's childhood friend. The man's wife then comes in, acting weird and saying they need to get away. After that, everything goes normally until their wedded bliss is cut short when Bea goes missing. Paul finds her naked and disoriented in the woods with no evidence as to how or why she got there. He takes her back to the cabin, with her claiming she was sleepwalking due to the stress, and to make nothing of it.
As time passes, Bea's behavior becomes increasingly distant and strange. At first, Paul blames Bea's strange behaviour on some encounter with Will, the restaurant owner, but soon he realizes there's more going on. On one night Paul was staying awake and he sees some bright lights through the windows, but when he goes to investigate he finds nothing. One day, during an argument Bea locks herself in the bathroom, and when Paul breaks in, he finds her repeatedly stabbing herself in the crotch. Paul then ties her to her bed and she asks him to "take it out of her". Paul puts his hand into her vagina and takes out a large worm-like creature. Bea later explains that the night she disappeared into the woods, she saw the lights at night and couldn't help walking towards it. She then saw some silhouettes and they apparently impregnated her. Bea then says that she is Bea, but they're taking away what's left of her. She then says she must protect Paul because they are going to "dispose of him". Bea then knocks Paul out, takes him into the middle of the lake on a boat, ties an anchor to his feet, and throws him into his death while believing that she is protecting him by "hiding" him under the water.
Bea is then shown to be deteriorating, her skin becoming white and flaky. Bea then meets Will's wife, and they walk away into the lights. The film finishes with Bea saying "Before I was alone, but now I'm not."
PL BRRip 
http://notepad.cc/honeymoon-2014-pl-brrip-xvid-k12-lektor-pl
BRRip 
http://notepad.cc/honeymoon-2014-brrip-x264-d0g