Ruin / Ruiny
3D

(2011) x264.AC3-apoTV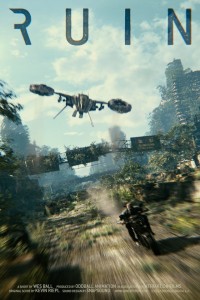 OPIS FILMU: Daleka przyszłość. Nasz bohater znajduje cyfrowy zapis, z którego wynika że
ma być poddany kwarantannie. Rozpoczyna się polowanie i ucieczka.
PLOT: In a future where cities have crumbled and been reclaimed by nature we join a lone man exploring the ruins of the company Haven Nanosystems. Recovering a locked container he seems to have found what he was looking for, which is information relating to the quarantined Facility B. Unfortunately just as located by a robotic drone and the race to escape is on.
produkcja:   USA
data:        2011
reżyseria:   Wes Ball
scenariusz:  Wes Ball
animacja:    Mark Davies
gatunek:     Animacja, Sci-Fi
Ruin / Ruiny 3D (2011) x264.AC3-apoTV