Hell Comes to Frogtown / Miasto żab (1988)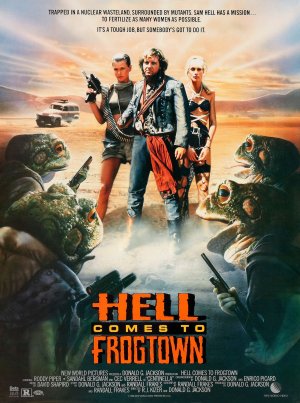 GATUNEK: Akcja | Komedia | Sci-Fi
OPIS FILMU: Po wojnie atomowej ludzkość została zdziesiątkowana. Mężczyźni, którzy przeżyli promieniowanie, stali się bezpłodni.
Na ich nieszczęście pustynne żaby, które po promieniowaniu nabrały ludzkich kształtów stworzyły własne miasta fortece, do których porywają piękne kobiety, aby uprawiać z nimi brutalny, zwierzęcy seks. Ostatnią nadzieją ludzkiej rasy jest Sam Hell, rozrabiaka, były żołnierz, jeden z ostatnich męskich okazów, który jest płodny.
W eskorcie dwóch pięknych kobiet Sam uda się do Frogtown, aby odbić z łap żab śliczne niewiasty. Aby nie przyszło mu do głowy używać swojego sprzętu nadaremnie, rząd zakłada mu na genitalia gigantyczny pas cnoty, podłączony do wybuchowego ładunku – a nasz bohater cierpi, albowiem pod pasem cnoty co chwila daje o sobie znać jego broń.
PLOT: 'Hell' is the name of the hero of the story. He's a prisoner of the women who now run the USA after a nuclear/biological war. Results of the war are that mutants have evolved, and the human race is in danger of extinction due to infertility. Hell is given the task of helping in the rescue of a group of fertile women from the harem of the mutant leader (resembling a frog). Hell cannot escape since he has a bomb attached to his private parts which will detonate if he strays more than a few hundred yards from his guard.
Directors: Donald G. Jackson, R.J. Kizer
Starring: Julius LeFlore, RCB, Roddy Piper
720p Bluray
http://notepad.cc/hell-comes-to-frogtown-1988-720p-bluray-yify
BRRip
http://notepad.cc/hell-comes-to-frogtown-1988-brrip-x264-ac3-playnow