Everly (2015)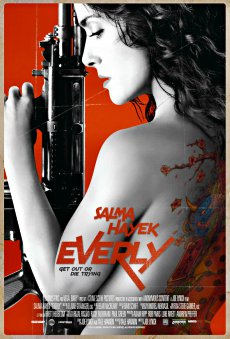 GATUNEK: Akcja, Thriller / LEKTOR.PL
OPIS FILMU: Ukrywająca się w swoim apartamencie kobieta (Salma Hayek) stawia czoła licznej grupie morderców nasłanych przez jej byłego chłopaka – szefa mafii.
PLOT: Everly (Salma Hayek), a prostitute working for the brutal criminal overlord Taiko (Hiroyuki Watanabe), is being attacked in her apartment by Taiko's enforcers after he discovers that she has been working with the police to bring down his organization. However, though Taiko expected his men to kill her easily after torturing her, Everly retrieves a gun she had hidden and manages to kill all of her attackers. Taiko then begins a sadistic game of toying with Everly, dispatching numerous hired killers and offering the other prostitutes in the building (which he presumably owns) a bounty if they manage to kill her. Meanwhile, Everly attempts to contact her mother Edith (Laura Cepeda) and young daughter Maisey (Aisha Ayamah) to save them from other henchmen of Taiko and get them out of the situation alive.
As the film progresses, it is revealed that Everly was a prisoner in the plush apartment after having been kidnapped by Taiko four years earlier and forced into prostitution. She has had no contact with Edith or Maisey during that time, and they are confused and angry at the deadly situation they are suddenly thrust into. As Everly fights off the numerous attacks, the foes become more outlandish; originally they are simply armed thugs, but eventually they appear in costumes and with themed groups for extravagant tortures. Everly is finally subdued, but manages to kill Taiko after his soldiers have left.
The film closes with Everly seemingly succumbing to her wounds, but with Maisey still alive and potentially safe with the death of Taiko. However, immediately before the credits, there is audio of a beeping heart-monitor and gasp of breath to indicate that Everly might not have died after all.
18-12-2019
PL
mirrorace.com/m/2g5N9

multiup.org/429c48d08e15322dbea94c14975fb5ac

vidspace.io/dvk70208q409.html
[collapse]