Ninjas vs Monsters (2013) BRRip XviD AC3-EVO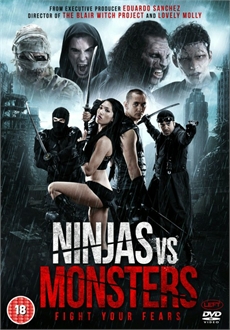 OPIS FILMU: Klasyczne potwory – Dracula, Frankenstein, Wilkołak oraz Wiedźma i inne łączą swoje siły by walczyć z heroicznymi wojownikami Ninja.
PLOT: In this final installment, the Ninjas and their friends find themselves pitted against the most evil and memorable monsters of them all – Dracula, Frankenstein, the Mummy, the Werewolf, and MORE! Loaded with martial arts action, bloody horror, gun play, magic, comedy, pop-culture references, and a tightly woven twist-filled plot.
Director: Justin Timpane
Writers: Justin Timpane, Daniel Ross (story) »
Stars: Daniel Ross, Cory Okouchi, Jay Saunders
 –  Action | Comedy | Horror
[imdb id="tt2070759″]
Ninjas vs Monsters (2013) BRRip XviD AC3-EVO
http://notepad.cc/ninjas-vs-monsters-2013-brrip-xvid-ac3-evo