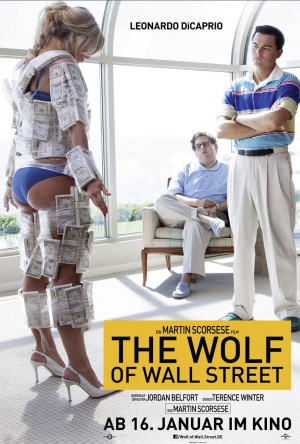 Wilk z Wall Street / The Wolf of Wall Street (2013) 
Gatunek..: Biograficzny, Dramat, Kryminał / LEKTOR.PL
OPIS: Jeden z największych reżyserów naszych czasów, laureat Oscara Martin Scorsese przedstawia prawdziwą historię jednego z najbardziej kontrowersyjnych bohaterów Wall Street. Jordan Belfort był złotym dzieckiem świata amerykańskich finansów. Szybki i oszałamiający sukces przyniósł mu fortunę, władzę i poczucie bezkarności. Pokusy czaiły się wszędzie, a Belfort lubił im ulegać i robił to w wielkim stylu. Najpiękniejsze kobiety. Najdroższe jachty. Najbardziej wyszukane narkotyki. Szalona impreza bez cienia poczucia odpowiedzialności. A w ślad za tym nieuniknione błędy i pragnienie jeszcze większego bogactwa. Korupcja, naginanie prawa i malwersacje podatkowe – w tym także Belfort okazał się mistrzem. Zrealizowana z rozmachem i poczuciem humoru, urzekająca blichtrem, a jednak gorzka opowieść o człowieku, który zawsze chciał więcej, a dostał to na co zasłużył.
PLOT: The Wolf of Wall Street is a 2013 American black comedy film directed by Martin Scorsese, based on Jordan Belfort's memoir of the same name. It was released on December 25, 2013. The screenplay was written by Terence Winter, and the film stars Leonardo DiCaprio as Belfort, a New York stockbroker who runs a firm that engages in securities fraud and corruption on Wall Street in the 1990s.
The film also features Jonah Hill, Margot Robbie, Matthew McConaughey, Kyle Chandler, Rob Reiner, Jon Bernthal, Jon Favreau, and Jean Dujardin. It is the fifth collaboration between Scorsese and DiCaprio, and the second between Scorsese and Winter following Boardwalk Empire.
The film received positive reviews from critics, but was also controversial for its moral ambiguity, sexual content, presence of drug abuse, vulgarity, and use of animals. The film grossed over $389 million worldwide against a $100 million budget, and was nominated for five Academy Awards, including Best Picture, Best Director for Scorsese, Best Adapted Screenplay for Terrence Winter, and Best Actor and Best Supporting Actor for DiCaprio and Hill, respectively, but failed to win in any category. It is the first major film to be released to theaters entirely through digital distribution. The film also holds the record for the most uses of the word "fuck" in a mainstream non-documentary film.
Martin Scorsese directs the story of New York stockbroker Jordan Belfort. From the American dream to corporate greed, Belfort goes from penny stocks and righteousness to IPOs and a life of corruption in the late 80s. Excess success and affluence in his early twenties as founder of the brokerage firm Stratton Oakmont warranted Belfort the title "The Wolf of Wall Street."
PL BRRip 
http://justpaste.it/wilk-wall-street-PL