Nurse / Perwersyjna siostra  (2013) PL.BRRip.XviD-KiT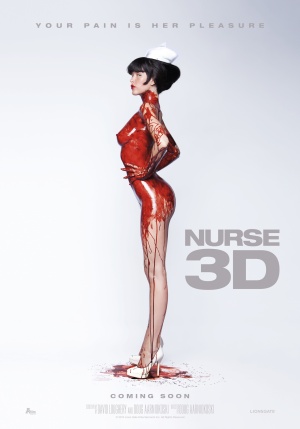 OPIS: Paz de la Huerta zagra główną rolę w thrillerze erotycznym "Nurse 3D".
Bohaterką filmu będzie Abby, tytułowa pielęgniarka, która nie tylko opiekuje się pacjentami, ale i potajemnie karze nieuczciwych mężczyzn.
– Paz jest idealna do tej roli – zachwyca się Tim Palen ze studia Lionsgate. – Jest ogromną inspiracją dla wszystkich twórców filmu "Nurse 3D". Jej obecność to synonim przygody i intensywnych przeżyć. Dlaczego realizujemy film w 3D? Przykład "Krwawych walentynek 3D" pokazał, że trójwymiar może dodać pikanterii odważnym scenom w projektach dla dorosłych. W naszej produkcji te sceny będą wysmakowane i pełne artyzmu.
PLOT: By day Abby Russell is a dedicated nurse, someone you wouldn't hesitate to trust your life with. But by night, her real work begins…using her smoldering sexuality she lures cheating men to their brutal deaths and exposes them for who they really are. When a younger nurse starts to suspect Abby's actions and compromises her master plan, Abby must find a way to outsmart her long enough to bring the cheater you'd least expect to justice.
Tytuł.: Nurse / Perwersyjna siostra
Produkcja.: USA
Gatunek.: Thriller
Czas trwania.: 83 min.
Premiera..: 28.09.2013 – Świat
Reżyseria..: Douglas Aarniokoski
Scenariusz.: David Loughery, Douglas Aarniokoski
Aktorzy.: Katrina Bowden, Paz de la Huerta, Corbin Bleu, Boris Kodjoe
Nurse / Perwersyjna siostra  (2013) PL.BRRip.XviD-KiT 
 http://notepad.cc/nurse-perwersyjna-siostra-2013-pl-brrip-xvid-kit
Nurse / Perwersyjna siostra  (2013) PLSUBBED WEB-DL.XviD-MX
Nurse / Perwersyjna siostra  (2013) UNRATED HDRip XviD-EBX
Nurse / Perwersyjna siostra  (2013) UNRATED WEBRiP XVID-MAJESTIC
Nurse 2013 Unrated HDRIP x264 AC3 TiTAN