Wojna imperiów / Tian Jiang Xiong Shi / Dragon Blade (2015)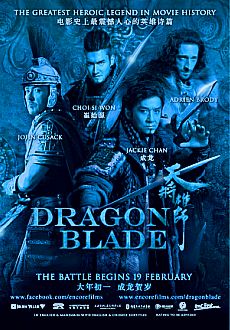 GATUNEK:  Thriller, Akcja, Przygodowy / LEKTOR.PL
OPIS FILMU: Sprzymierzone siły chińskiej armii i legendarnego zaginionego rzymskiego legionu bronią granicy przed generałem, który pragnie przejąć kontrolę nad "jedwabnym szlakiem".
PLOT: In western China, 48 BC, a security company under China's current government called The Silk Road Protection Squad is committed towards stopping battles and promoting the idea of peace. Huo An (Chan), the captain, successfully averts a battle between the Indians and Huns. The group returns to their unnamed home city, where Huo An's wife serves as a schoolteacher for orphans. However, the government uncovers evidence that someone in the group is corrupt, causing the entire group to be sentenced to construction work at Goose Gate, a ruined fortress. Once they arrive, the group pays respects at the shrine of a fallen Chinese general, since they originally were child-slaves of Hun descent, but later the general had rescued them.
Not long after, Goose Gate is threatened by a Roman legion in need of water and supplies, among which is a boy name Pubilious (Waite). After a stale-mated duel between Huo An and Lucius (Cusack), the enemy general, the latter agrees not to assault the city in return for being let inside. The legion uses its superior engineering skills to speed up the construction work, an act which boosts the morale and happiness of the inhabitants, who are divided among several different races, such as Chinese, Uighur, and Turkic. Huo An returns the favor by sending men to assist Lucius's envoys in reaching the Parthian Empire. A celebration is later held and Huo An is made an honorary centurion.
Lucius reveals that he and Pubilius are fleeing from Pubilius's brother Tiberius (Brody), a corrupt consul who murdered his father. As Tiberius approaches with 100,000 soldiers, Huo An insists on helping Lucius, pointing out that Tiberius is a threat to the Silk Road in its entirety. Shortly after Huo An leaves to find reinforcements, the corrupt group member from earlier sends Chinese soldiers to murder Huo An's wife and attack Goose Gate. The legion is imprisoned in the non-Chinese trading city of Kroran, where Tiberius has chosen to camp. Tiberius proceeds to murder Pubilius.
Huo An and the few loyal Chinese soldiers travel to Kroran, pretending to surrender, but once they are inside, they destroy the Roman legion's cages. However, they are unable to free Lucius, who is burned to death in a special solitary cell. As Huo An's and Lucius's soldiers are surrounded, the armies of several other races arrive and fight against Tiberius, including the Indians, Huns, Uighurs, and Turkics, all of whom are determined to preserve the Silk Road's safety. However, even their combined forces are unable to gain the upper hand. Finally, the envoys from earlier return with a massive host of Parthians, who had signed a special treaty with Tiberius's father and who intend to avenge his memory. Tiberius's soldiers lose their will to fight. Huo An challenges Tiberius to a duel and kills him.
Upon hearing about the bravery of Lucius's legion, the Chinese emperor grants them the right to establish their own city, which they choose to name Regum. They accept Huo An as their commander, and Huo An, in turn, honors the deceased Chinese general by relocating the shrine to that city. As the centuries go on, the city fades from collective memory. However, in the modern day, a team of Asian American archaeologists stumble upon the site and uncover the dual Chinese and Latin inscriptions.