Red Sky / Czerwone niebo (2014) HDRip AC3 x264-BDP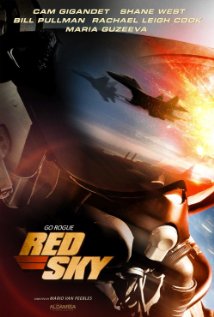 OPIS FILMU: Irak, 2001 rok. Dwóch amerykańskich pilotów – Butch Masters (Cam Gigandet) i Tom Craig (Shane West) dostają rozkaz zbombardowania opuszczonej fabryki. Rozkaz okazuje się fałszywy.
Na miejscu giną amerykańscy eksperci i zostaje skradziony "Rainmaker", sprzęt do niszczenia pól naftowych. Piloci zostają zwolnieni ze służby. Siedem lat później kurdyjska organizacja terrorystyczna planuje zająć część północnego Iranu i utworzyć tam własne państwo. Chcą użyć "Rainmakera" i zniszczyć pola naftowe, by teren był poza sferą zainteresowania rządu USA. Masters dostaje szansę oczyszczenia imienia poprzez uczestnictwo w ściśle tajnej misji wojskowej. Wraz z grupą emerytowanych pilotów ma zbombardować bazę Kurdów i zniszczyć "Rainmakera". Zdradzony przez towarzyszy i pozostawiony na śmierć, Masters ze swoją drużyną znajduje wsparcie w rosyjskiej grupie pilotów akrobatów, z którą staje do ostatecznej rozgrywki.
PLOT: In 2001 in Iraq, two American Navy pilots—Butch Masters and Tom Craig—are ordered to bomb an abandoned plant. The order appears to be false. American experts get killed in the plant. A secret chemical device, called "Rainmaker", designed for oil fields destruction, gets stolen. Military court cannot prove the pilots' intentions, and gives them a dishonorable discharge. After seven years Craig is rich and famous. He manages a private pilot team, working for Top Gun and for movies. Masters is a grease monkey in a small airport. He still tries to investigate his old case, and dreams of his own pilot's team. In order to get a license to fly Russian jets, Masters goes to St. Petersburg, where he meets old friends and new problems. At the same time, a Kurdish terrorist group plans to capture a part of Northern Iraq and found a new Kurdish state there. They plan to use Rainmaker to destroy oil fields there and make the territory uninteresting for Americans. The terrorists' base is located in Northern Iran, and cannot be reached by US military. Navy intelligence offers Masters to clear his name by performing a secret off-records mission to Iran with a team of retired pilots. Using unmarked planes, they have to bomb the base and destroy "Rainmaker". Doomed to death, betrayed by friends, and left in the Syrian desert, Masters and his team finds unexpected support from the Russian Knights aerobatic team. Russians and Americans go to the final battle side by side.
GATUNEK: Akcja, Thriller
[imdb id="tt1946381″]
Red Sky / Czerwone niebo (2014) HDRip AC3 x264-BDP