Hard Rain / Powódź (1998) BRRip XviD MP3-RARBG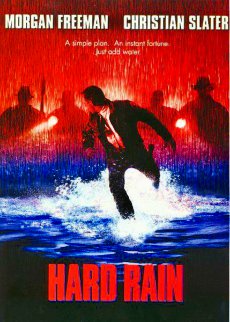 OPIS FILMU: Miasteczko Huntingburg nawiedza kataklizm – powódź. Okolice zalane zostają przez wody pobliskiej rzeki. Większość mieszkańców postanawia się ewakuować, miejscowy bank próbuje ocalić gotówkę. Tom (Christian Slater) i jego starzejący się wuj Charlie wywożą z podtopionego miasta opancerzoną furgonetką 3 mln dolarów, których w porę nie zabezpieczono. W drodze samochód utyka w podnoszącej się z minuty na minutę wodzie. Gdy próbują sprowadzić pomoc, zostają zaatakowani przez uzbrojoną bandę. Powódź tymczasem przybiera na sile.
PLOT: During the worst recorded rainstorm in the history of the Midwestern United States, armored truck drivers Tom (Christian Slater) and his uncle Charlie (Edward Asner) are collecting the money from the local banks affected by the rising flood waters. In the small town of Huntingburg, Indiana, which has been evacuated, Tom and Charlie drive into a ditch and become stuck, and Charlie calls dispatch to alert the National Guard. They are then ambushed by Jim (Morgan Freeman) and his gang of armed robbers, Kenny (Michael Goorjian), Mr. Mehlor (Dann Florek) and Ray (Ricky Harris). Kenny accidentally shoots Charlie dead, as Tom gets away with the $3 million in cash and hides it in a cemetery.
After being chased through the local Middle School by the gang now travelling with a boat and jet skis, Tom takes refuge in a nearby church. He is knocked out and wakes up in a cell at the local Sheriff's office. Tom tells the local sheriff Mike Collig (Randy Quaid) about the gang and the area he hid the money, although he keeps him locked up. He and his Deputy Wayne (Mark Rolston) then leave to investigate, whilst another officer Phil (Peter Murnik) is ordered to take Karen (Minnie Driver), the woman who knocked Tom out and is currently restoring the church, out of town. In protest, she pushes Phil out of the boat so she will be able to fill the water pumps at her church.
The town's dam continues to experience huge pressure from the rain and the operator Hank (Wayne Duvall) is forced to open another levee. This causes another huge burst of water to stream through the town, resulting in even worse flooding, especially at the church. Tom wakes in his cell, trapped as the Sheriff's building slowly fills up with water. After filling the pumps at the church, Karen returns and saves him by opening the light fitting on the roof for him to escape.
Mr. Mehlor and Ray are killed in the shoot out, and Jim and Tom escape in a boat, finding sanctuary in the church.
Hank then shoots Phil, thinking he's a coward. The alarm from the dam saying it is overflowed suddenly sounds. Offering a deal, the sheriff says he'll tell Tom and Jim where Karen is, if they let Hank and himself go with a couple of the moneybags. Tom agrees, yet Jim does not. A dying Phil then tells Tom where Karen is, and Tom then leaves to try to save her. Jim goes to leave with the money in the sheriff's boat, but the sheriff shoots Jim with a revolver he was hiding, wounding his shoulder. Sheriff Collig and Hank escape in a boat and, when they are forced to go faster to avoid the wave engulfing the town, the Sheriff pushes Hank out of the boat, who tries to swim to safety, but is caught in a gas explosion and dies.
However, he is not dead, and tries to shoot Karen and grab a moneybag, but Tom and Jim manage to shoot him dead. Tom tells Jim he should leave, just as the State Police arrive. Jim picks up the Sheriff's moneybag and rows away, as Tom tells Karen the fire damage to her church wasn't too bad while being picked up by State Police.
GATUNEK: Akcja, Kryminalny, Dramat
[imdb id="tt0120696″]
Hard Rain / Powódź (1998) BRRip XviD MP3-RARBG
http://notepad.cc/hard-rain-powodz-1998-brrip-xvid-mp3-rarbg