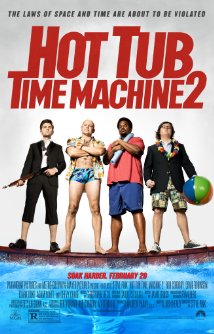 HOT TUB TIME MACHINE 2 / Jutro będzie futro  2 (2015)
GATUNEK: Komedia, Sci-Fi
OPIS FILMU: Kiedy Lou pakuje się w problemy, Nick i Jacob odpalają wannę do przenoszenia się w czasie, by zapobiec całej sytuacji. Jednak zamiast w przeszłości panowie lądują w przyszłośći.
PLOT: Five years after the first film, Lou Dorchen, Nick Webber and Jacob have led their lives to fame, but each struggling with their self-esteem. Lou brags his success through time travel to his employee Brad, while Nick's wife Courtney complains about Nick going wherever he wants, whereas Jacob shows hatred for Lou. Lou hosts a party where he declines an offer by old schoolmate Gary Winkle to buy land, and forcing Jacob as a butler. However, Lou is shot in the penis, urging Jacob and Nick to take him to the hot tub time machine, in hopes to find and stop Lou's killer.
When the guys wake up, they find themselves ten years into the future, where Jacob suggests they are in an alternate timeline, deducing Lou's killer is from the future. They approach their old friend Adam Yate's home, deducing him as the killer when they noticed Adam's coat near the hot tub time machine, but meet his son Adam Yates-Steadmeyer and explain the situation to him.
When Lou spots Gary Winkle, thinking Gary was the killer, he runs in and tackles Gary, but finds out that Lou not buying the land actually made Gary turn a profit. Gary invites them to his nightclub, where they party all night. They then are picked up to go to Choozy Doozy, with Nick as the special guest. During the game, after Lou suggests that Nick has sex with a man, he is chosen to participate, but switches with Adam instead, with Jill, Adam Jr.'s fiancée, watching the show. This frustrates Jacob to leave the group and returns to Gary's club, only to find out how similar he is to Lou. The group finds Jacob on top of his home, where Lou and Jacob make amends.
The guys see a news report on Brad for inventing nitrotrinadium, the ingredient for the hot tub time machine, and believe Brad is the killer. At Adam Jr.'s wedding, Jill is too angry for what Adam has done on TV and spots Lou, where they have sex, in which Adam accidentally walks in on. Jacob finds Brad but realizes he's not the killer but rather went to find his own success. They find out that Adam Jr. stole the nitrotrinadium and went back to the past, revealing him as the killer. They return back to the mansion, but are too late to stop Adam Jr. As the guys sit in hopelessness, Jacob realizes that because the nitrotrinadium is in the past, it now exists in the future. They find a vial and place it in the hot tub time machine to return back to 2015. They stop Adam Jr. from shooting Lou after Lou apologizes to him.
Following this, Nick apologizes to Courtney as Lou tells his wife Kelly he wants to start over. Adam Jr. meets Jill for the first time as Jacob approaches Sophie, his future girlfriend, and convinces her to join him in a relationship. As the four return back to the hot tub again, Lou's head is shot off by Adam Sr. and suggest they follow him into the hot tub, but are halted by Patriot Lou from the 1700s and invites them to "make America happen," and the others agree and take another dip in the hot tub. During the credits, the guys are seen exploiting the time machine to change history.
WEB-DL
http://notepad.cc/hot-tub-time-machine-2-2015-unrated-web-dl-xvid-mp