Disciples (2014) HDRip x264-REKoDE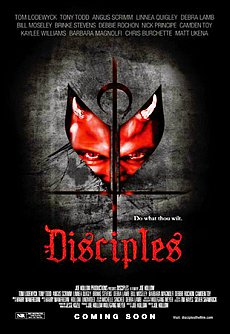 OPIS FILMU: Stare proroctwo o uwolnieniu złej istoty ziszcza się, a piekło opanowuje ziemię. Garstka ludzi i demonów jednoczy się w walce o los ludzkości.
PLOT: A dark twisted apocalyptic shocker about a group of humans and demons who must band together to fight for the fate of humanity. When an ancient prophecy unleashes an evil spirit, hell is brought upon the world.
Director: Joe Hollow
Writer: Joe Hollow
Cast: Tom Lodewyck, Linnea Quigley, Brinke Stevens, Debra Lamb, Tony Todd, Angus Scrimm, Bill Moseley, Camden Toy, Debbie Rochon, Morgan Peter Brown, Barbara Magnolfi, Chris Burchette, Rachel Grubb, Matt Ukena, Nick Principe
Runtime: 1h 26mn
Size: 1.22GB
GATUNEK: Horror
[imdb id="tt2006719″]
Disciples (2014) HDRip x264-REKoDE