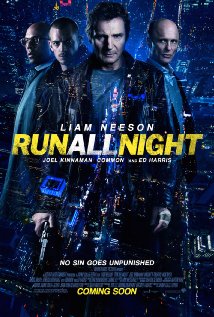 Nocny pościg / Run All Night (2015)
OPIS FiLMU: W życiu brooklińskiego gangstera i niezawodnego płatnego zabójcy Jimmy'ego Conlona (Neeson), niegdyś znanego jako Grabarz, bywało już lepiej. 55-letniego gangstera, starego przyjaciela bossa mafii Shawna Maguire'a (Harris), prześladują nie tylko grzechy przeszłości, lecz także zawzięty detektyw, który przez ostatnie 30 lat nieustannie depcze mu po piętach. Wydaje się, że tylko whisky może ukoić jego nerwy. Gdy jednak jego dawno niewidziany syn Mike (Kinnaman) staje się celem, Jimmy musi dokonać wyboru pomiędzy swoją przestępczą rodziną, a synem, którego porzucił wiele lat temu. Mike musi uciekać. Jedynym sposobem, w jaki Jimmy może odpokutować za błędy przeszłości, może okazać się uchronienie syna przed losem, jaki według Jimmy'ego jest pisany jemu samemu — znalezienie się po złej stronie lufy pistoletu. Jimmy nie ma dokąd uciec, a w ciągu jednej nocy musi podjąć decyzję, komu jest winien lojalność.
PLOT: Brooklyn mobster and prolific hit man Jimmy Conlon, once known as The Gravedigger, has seen better days. Longtime best friend of mob boss Shawn Maguire, Jimmy, now 55, is haunted by the sins of his past as well as a dogged police detective who's been one step behind Jimmy for 30 years. Lately, it seems Jimmy's only solace can be found at the bottom of a whiskey glass. But when Jimmy's estranged son, Mike, becomes a target, Jimmy must make a choice between the crime family he chose and the real family he abandoned long ago. With Mike on the run, Jimmy's only penance for his past mistakes may be to keep his son from the same fate Jimmy is certain he'll face himself… at the wrong end of a gun. Now, with nowhere safe to turn, Jimmy just has one night to figure out exactly where his loyalties lie and to see if he can finally make things right.
GATUNEK: Thriller, Kryminalny
 PL.BDRip