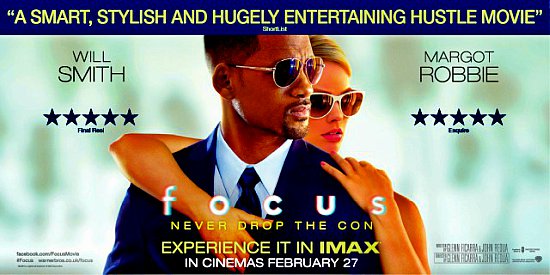 Focus (2015)
GATUNEK: Komedia, Kryminalny, Dramat / LEKTOR.PL
OPIS FiLMU: Miłosna historia w "Focusie" została przybrana w szaty komedii sensacyjnej. Smith i Robbie grają bowiem parę oszustów i złodziei. On jest legendą w branży, od lat z powodzeniem okradającym bogatych naiwniaków. Jego akcje są brawurowe i perfekcyjnie przemyślane. Nigdy nie daje się ponieść emocjom, obwarowany wiedzą na temat tego, jak funkcjonuje ludzka psychika. Ona jest piękną i całkiem sprawną złodziejką. Ich losy zmienią się, gdy spotkają się w barze. Ona spróbuje go okraść, ale to on da jej kilka lekcji złodziejskiego fachu. W międzyczasie coś między nimi zaiskrzy. Narodzi się uczucie. Ale czy w świecie, gdzie kłamstwo jest chlebem powszednim, znajdzie się miejsce na szczerość, jakiej wymaga kochanie kogoś całym sobą?
PLOT: Seasoned con-man Nicky Spurgeon (Will Smith) goes to a nightclub, where a very inexperienced grifter, Jess Barrett (Margot Robbie), attempts to seduce him by pretending that they've been caught by her jealous husband, in order to con Nicky. Seeing through their deception, Nicky exposes their plan and advises them never to lose focus when faced with unexpected situations before leaving. Jess finds him in another nightclub a few days later and convinces Nicky to become her mentor by detailing all information she acquired on him, including that his father, Bucky Spurgeon, was forced to shoot Nicky's grandfather after a con gone wrong, a ploy known as the "Toledo Panic Button."
Nick takes Jess to New Orleans, where she performs a series of minor cons as a test. After proving her worth, Jess is introduced to Nicky's crew, and soon Nicky and Jess develop a romantic relationship, upsetting Nicky, who was taught by his father to never become emotionally involved with anyone in their line of business. At the 17th Associated Football Franchise of America Championship Game at the Mercedes-Benz Superdome between the Chicago Rhinos and the Miami Threshers, Nicky and Jess con a compulsive gambler, Liyuan Tse (B.D. Wong) out of all his money, after making Tse pick a player's number, 55, from the game—a number that he was psychologically programmed by Nicky and his crew to pick which would be the same number worn on the Chicago sideline by a person Jess would easily recognize: Farhad (Adrian Martinez), a member of the crew. Nicky later explains that Jess was the "little blind mouse" who was not supposed to know until later that Nicky was running a game on Tse the whole time. Afterwards, Nicky gives Jess her share but reluctantly sends her away, leaving her heartbroken.
Three years later, Nicky is in Buenos Aires, working for billionaire motorsport team owner Rafael Garriga (Rodrigo Santoro). Garriga needs to beat a team headed by Australian businessman McEwen (Robert Taylor) to win the championship. Nicky will pretend to be a disgruntled technician on Garriga's team and will sell a bogus component to McEwen, slowing their car down during the race. At a pre-race party, Nicky runs into Jess, who is now Garriga's girlfriend. Nicky has a convincing fight with Garriga in public and is recruited by McEwen to provide the component.
Nicky begins pursuing Jess again, and they eventually rekindle their relationship. The head of Garriga's security entourage, Owens (Gerald McRaney), is suspicious and follows Nicky and Jess. Nicky delivers the component to McEwen for three million euros, but also sells it to the other teams for similar amounts. While he is waiting for Jess at his hotel room, he receives a text saying "You're burned leave now" meaning he is exposed, and should leave immediately.
Nicky and Jess attempt to return to the United States together. However, they are caught by Garriga's men and taken to an abandoned warehouse, where Nicky pleads for Jess's life, and is beaten by Garriga. Jess reveals she was trying to seduce Garriga in order to steal his valuable watch, and Owens then shoots Nicky in the chest, causing a horrified Garriga to leave. Owens then reveals himself to be Nicky's father, Bucky, and assures Jess that he avoided any major arteries. He simply employed the "Toledo Panic Button."
Bucky drives Nicky and Jess to the hospital to treat Nicky's punctured lung and departs with Nicky's money, as a reminder of the consequences of losing focus. After he leaves, Jess reveals that she snatched Garriga's watch before he left the warehouse, and a smiling Nicky and Jess then go into the hospital together.
8-01-2018
LEKTOR PL
megadrive.co/3soed4ep9mnl
[collapse]