Echoes of War (2015) DVDRip x264-BiPOLAR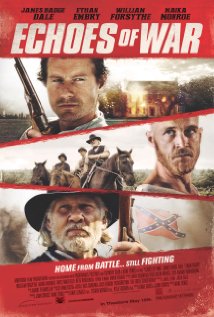 OPIS FiLMU: Po wojnie secesyjnej w Teksasie rodzina Rileych, opłakująca stratę najbliższych, próbuje przetrwać wyłapując dzikie zwierzęta i sprzedając ich futra. Ich pułapki są jednak opróżniane przez Randolpha McCluskeya, co rozpoczyna tragiczną wojnę pomiędzy sąsiadami.
PLOT: In post-Civil War Texas, two neighboring families are grieving tragic losses while they struggle to survive in this rural drama. The cattle-ranching McCluskeys have lost both a son and their entire herd to the war. The Rileys, mourning the loss of wife and mother Mary to illness, eke out a living trapping animals and selling their pelts. When Seamus Riley's brother-in-law Wade (James Badge Dale, The Lone Ranger, Iron Man 3) returns from fighting for the Confederacy, he soon discovers that Randolph McCluskey (William Forsythe, The Rock, Once Upon a Time in America) and family have been stealing animals from his family's traps. He decides it is intolerable and takes matters into his own hands, sparking yet another tragic and senseless war.
GATUNEK: Thriller, Western
Director: Kane Senes
Writers: John Chriss, Kane Senes
Stars: James Badge Dale, Ethan Embry, William Forsythe
[imdb id="tt3094252″]
Echoes of War (2015) DVDRip x264-BiPOLAR
Echoes of War (2015) HDRIP x264 AC3-TiTAN