Escape Plan / Plan ucieczki (2013)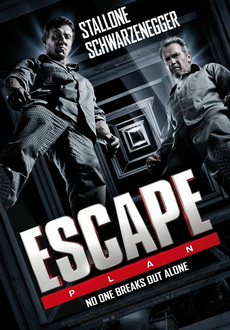 Gatunek.: Thriller, Akcja / LEKTOR.PL
OPIS FILMU: "The Escape Plan" to amerykański thriller z 2013 roku. Początkowo w fotelu reżysera miał zasiąść Antoine Fuqua, jednak filmowiec ostatecznie zrezygnował z posady. Studio Summit znalazło jego zastępcę, Mikaela Håfströma. Scenariusz napisał Miles Chapman oraz Jason Keller, a za produkcję odpowiadają Mark Canton i Randall Emmett.
Ray Breslin jest największym na świecie autorytetem w dziedzinie konstrukcji zabezpieczeń. Aby stworzyć zakład karny, z którego ucieczka nie będzie możliwa, analizuje wszystkie więzienia z najlepszymi zabezpieczeniami i uczy się jak przetrwać w więziennym środowisku. Jego umiejętności zostają wystawione na próbę, gdy zostaje wrobiony i osadzony w więzieniu, które sam zaprojektował. Jego celem jest ucieczka i odnalezienie osoby, która wpakowała go za kratki.
PLOT: One of the world's foremost authorities on structural security agrees to take on one last job: breaking out of an ultra-secret, high-tech facility called "The Tomb." Deceived and wrongly imprisoned, Ray Breslin (Sylvester Stallone) must recruit fellow inmate Emil Rottmayer (Arnold Schwarzenegger) to help devise a daring, nearly impossible plan to escape from the most protected and fortified prison ever built. ESCAPE PLAN is the first pairing of action legends Sylvester Stallone and Arnold Schwarzenegger in leading roles, and co-stars Jim Caviezel, Curtis "50 Cent" Jackson, Vinnie Jones, Vincent D'Onofrio and Amy Ryan.
Tytuł..: Escape Plan / Plan ucieczki
Produkcja..: USA
Czas trwania..: 115 min.
Premiera.: 06.12.2013 – Polska, 18.07.2013 – Świat
Reżyseria.: Mikael Håfström
Scenariusz..: Miles Chapman, Jason Keller
Aktorzy..: Sylvester Stallone, Arnold Schwarzenegger, Vincent D'Onofrio, Sam Neill, 50 Cent, Jim Caviezel, Vinnie Jones
21-7-2019
BRRip PL
mirrorace.com/m/4fx94

verystream.com/stream/eDPM8oL3d6w/

uptomega.com/xdfvlnkk28el

getvi.tv/video/232558/escape-plan-2013/
[collapse]
16-6-2018
PL.BRRip
justpaste.it/PLAN-UCIECZKI-PL-BRRip-BiDA
[collapse]