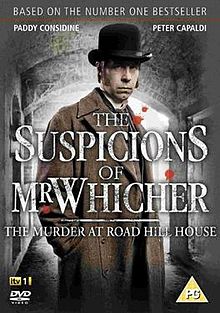 Podejrzenia pana Whichera: Nierozerwalne Więzi / The Suspicions Of Mr Whicher: Ties That Bind (2014)
GATUNEK: Kryminalny, LEKTOR.PL
OPIS FILMU: Jack Whicher (Paddy Considine), od niedawna prywatny detektyw, niechętnie przyjmuje nowe zlecenie. Ma śledzić żonę niejakiego Henry'ego Coverleya, aby udowodnić jej niewierność a tym samym pomóc Coverleyowi uzyskać szybki rozwód. Sprawa wydaje się prosta i w dodatku, ku niezadowoleniu Whichera, nudna. Jednak wypadki przyjmują dramatyczny obrót, kiedy jeden z kluczowych świadków w rozprawie rozwodowej zostaje znaleziony martwy. Okoliczności jego śmierci są bardzo podejrzane, a na jaw wychodzą głęboko skrywane mroczne tajemnice…
PLOT:  When three-year-old Saville Kent is found murdered in dreadful circumstances at the family home in Wiltshire, Commissioner Mayne (Tim Pigott-Smith) sends Scotland Yard detective Inspector Jack Whicher (Paddy Considine) to investigate the crime. Local Superintendent Foley (Tom Georgeson) believes that the murder is an 'inside job', committed by Saville's nurse Elizabeth Gough (Kate O'Flynn), whom he suspects the child had seen in bed with a man, possibly the child's father, Samuel Kent (Peter Capaldi) but whom he is forced to release due to lack of evidence.
When Whicher arrives, Foley , suspicious of this outsider and his progressive police methods, reluctantly agrees to help. The focus of Whicher's investigation is a torn and blood-stained piece from a woman's undergarment that had been found during the initial search for the missing boy. Constance Kent (Alexandra Roach), Samuel Kent's sixteen-year-old daughter from his first marriage, claims that one of her three night-gowns had been lost by the laundress. When Dr. Stapleton (Ben Miles), the family's doctor tells Whicher that Constance, like her late mother, is mentally unstable and resentful of Saville, her father's son from his second marriage, she immediately becomes Whicher's prime suspect. It is discovered that Constance and her younger brother William Saville-Kent (Charlie Hiett) hate their stepmother Mary (Emma Fielding) — who had in fact been employed as their former nanny, with whom their father had had an affair while their mother was dying. He visits a schoolmate of Constance's, Emma Moody, who tells him that Constance enjoyed hurting Saville. As the circumstantial evidence builds Whicher arrests Constance convinced that she has killed her half-brother out of revenge against her father for his treatment of her mother and his neglect of her and William, but he fails to get a confession from her. At her trial, her lawyer discredits Whicher's case by wilfully misrepresenting it. Emma Moody is called as a witness, but she lies and states that Constance adored her half-brother, and Constance is acquitted. Whicher accuses Mr. Kent of abetting the wrongful acquittal.
Whicher's reputation is destroyed. He suffers a breakdown and leaves the police force. Five years later, in 1865, Constance confesses her guilt to a clergyman, the Rev. Arthur Wagner (Antony Byrne), and is re-tried. In court the Rev. Wagner gives a declaration that he must withhold any information on the grounds that it had been received under the seal of "sacramental confession". At the same time it is revealed that Superintendent Foley had withheld evidence from Whicher during the original investigation. This time Constance Kent admits her guilt, but refuses to corroborate Whicher's theory that her brother was also involved in the murder.
Constance Kent is sentenced to death. However, viewers are informed by means of captions that due to public outcry after the trial the sentence is commuted to life in prison, that she is released after serving twenty years, and that she emigrates to Australia where she dies at the age of 100.
PL.HDTV
http://notepad.cc/the-suspicions-of-mr-whicher-ties-that-bind-2014-p