Bezlitosny / Skin Trade (2014)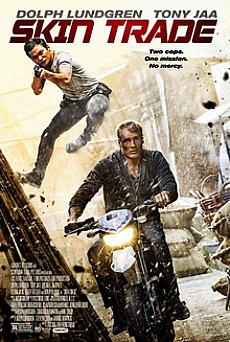 GATUNEK: Akcja, Kryminalny, Thriller, LEKTOR.PL
OPIS FILMU: Nowojorski detektyw wyrusza do Bangkoku, by zemścić się za śmierć rodziny i ujawnić handel ludźmi prowadzony przez mafię. Pomaga mu tajski kolega po fachu.
PLOT:A Cambodian girl leaves her village for Bangkok. After arriving, she is kidnapped, drugged and sold into the skin trade.
In Newark, New Jersey, detective Nick Cassidy captures a criminal named Dex. Cassidy learns Serbian mobster Viktor Dragovic is in town. Meanwhile, in Asia, undercover detective Tony Vitayakul has his cover blown while attempting to buy a Vietnamese girl from a group of human traffickers. Tony kills the men and frees the girl.
During a briefing, Captain Costello explains that Dragovic runs a large-scale human trafficking operation. Dragovic's sons Goran and Ivan run their father's operations in the Middle-East and South-East Asia, respectively. As one of Dragovic's ships approaches America, Cassidy and the department prepare to intercept it.
Dragovic arrives at the New Jersey docks. After discovering the trafficked women inside his container have died of suffocation, Dragovic shoots the ships captain in the head. As the police move in to arrest Dragovic, a shootout ensues. Cassidy chases Dragovic and his son Andre as they flee. He shoots Andre in self-defense and arrests Dragovic. While Dragovic is in custody, Ivan and Goran blow up Cassidy's home in an attempt to avenge their brother's death, killing Cassidy's wife Rosa and daughter Sofia. Cassidy is shot in the back and left for dead, but he survives.
Costello and FBI agent Reed visit Cassidy in the hospital. They tell him about his family and that Dragovic fled the country after being bailed. After Costello and Reed leave, Cassidy staggers out of the hospital unnoticed. After gathering a few weapons, he travels to the restaurant of Dragovic's attorney. While there, he kills a few of Dragovic's men and forces Dragovic's attorney to reveal Dragovic is hiding in Cambodia. Cassidy kills Dragovic's attorney and blows up the restaurant.
In Cambodia, Senator Khat visits Dragovic at his hideout. He tells Dragovic that due to political pressure from the United States, Dragovic will have to leave the country immediately or face being arrested. Dragovic blackmails Senator Khat into giving him two weeks to flee to Laos and splits his operations between Goran and Ivan.
Cassidy lands in Thailand in pursuit of Dragovic, where Reed, Tony, and his partner Nung attempt to arrest him. Reed, who has been bought by Dragovic, kills Nung and frames Cassidy. Tony pursues Cassidy through the streets, but Cassidy escapes.
Cassidy travels to a nightclub in Poipet, where after torturing one of Dragovic's men, he discovers the location of one of Dragovic's operations. Tony and Reed arrive at the nightclub and attempt to kill Cassidy. After a physical confrontation with Tony, an equally injured Cassidy escapes. Reed arrives at the scene, where he steals Tony's cell phone and uses it to uncover an informant, Tony's girlfriend Min.
While attempting to sabotage Dragovic's operations, Cassidy finds a group of kidnapped girls. A shootout ensues between Cassidy and Dragovic's men. Before leaving, Ivan and Goran shoot their half-brother Janko on behalf of their father. Tony arrives and attempts to kill Cassidy, but after Cassidy tells him the truth about his partner's death, Tony fights (and eventually kills) Reed. Before dying, Janko reveals his father's exact location to Cassidy.
The next day, Cassidy and Tony travel to Dragovic's compound. Whilst there, Cassidy learns that his daughter Sofia was not killed but placed into the human trafficking trade instead. As Ivan tries to kill Min, Tony shoots him in the head. Cassidy then destroys a vehicle with a rocket-launcher, and as a result, Dragovic's helicopter leaves without him. During a shootout between Cassidy and Dragovic's men, Goran is killed in a fight with Tony. After the shootout, Cassidy fights with Dragovic and stabs him in the chest. Cassidy then unsuccessfully attempts to retrieve the whereabouts of his daughter from the dying Dragovic.
In the aftermath, Cassidy says goodbye to Tony and Min. Before leaving, Cassidy gives them both a picture of Sofia and tells them to hold on to it until he's found his daughter. He then sets out in pursuit of Sofia.
PL.BRRiP