Granice namiętności / The Edge of Love (2008)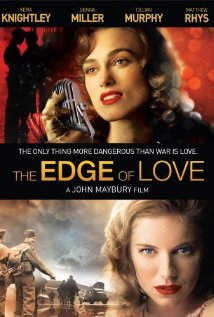 Gatunek..: Biograficzny, Dramat, LEKTOR.PL
OPIS FILMU: Anglia, II wojna światowa. Vera (Keira Knightley) pracuje w Londynie jako piosenkarka, przynosząc chwile radości zmęczonym wojną ludziom. Pewnego dnia spotyka swoją pierwszą miłość ? Dylana Thomasa, poetę i autora filmów propagandowych. Stara namiętność wybucha ze zdwojoną siłą, pomimo iż mężczyzna nie jest już wolny. Jego żona Caitlin (Sienna Miller) jest odważną, otwartą na nowe wyzwania kobietą. Zdaje sobie sprawę, że mąż ulega fascynacjom innymi ? i sama też nie dotrzymuje przysięgi wierności. W międzyczasie Vera wychodzi za mąż za Williama, jednak kiedy ten wyjeżdża na front, zamieszkuje razem z Dylanem i Caitlin. W tym dziwnym trójkącie rywalizacja, miłość i przyjaźń tworzą wybuchową mieszankę.
PLOT: The story is based loosely on real events and real people, drawing on David N. Thomas' book Dylan Thomas: A Farm, Two Mansions and a Bungalow.
During the London blitz of World War II, Vera Phillips (Keira Knightley) runs into her first love, a charismatic Welsh poet Dylan Thomas (Matthew Rhys). Their feelings for each other are rekindled, despite the fact that Dylan is now married to and has a child with the spirited Caitlin Macnamara (Sienna Miller). In spite of their initial rivalry, the two women become best friends and, drinking heavily in wartime London, the three get along well.
At this time, William Killick (Cillian Murphy), a British soldier smitten with Vera, pursues her. They fall in love and marry, but soon afterwards William is posted to war. Vera gives birth to his baby, and she and the Thomases move to the Welsh seashore to raise their children in two small neighbouring cottages, where Vera and Caitlin's friendship grows ever closer. One day, however, Dylan draws Vera into an affair.
William, scarred by the horrors of war, eventually returns home where Vera notices his emotional distance and instability. In his disquiet, William comes to suspect his wife's infidelity. Severely drunk one night, and angry with Dylan's friends and their ignorant remarks on the war, he returns home and fires multiple shots into the Thomases' house, though he hits no one. In the morning, he is arrested and taken to trial.
During the trial, Dylan testifies against William by exaggerating the facts, stating he believed Killick was not only sober, but also that Killick intended to kill him, his wife, and his child. The jury finds William innocent of intent to murder, and he returns home. He accepts his new role as a father, and Vera forgives him, rekindling their relationship. Soon afterwards, the Thomases move out of their cottage. During the farewell, Vera restores her friendship with Caitlin, but never speaks with Dylan again, unable to forgive him for testifying against her husband.
Tytuł…: The Edge of Love / The Edge of Love
Produkcja…: Wielka Brytania
Czas trwania…: 110 min
Premiera…: 15.05.2008 – Świat
Reżyseria..: John Maybury
Aktorzy..: Keira Knightly, Matthew Rhys, Sienna Miller, Cillian Murphy
 PL.BDRip