Anarchia / Cymbeline (2014)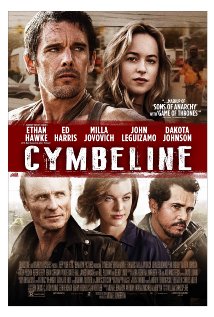 GATUNEK: Dramat, LEKTOR.PL
OPIS FILMU: Cymbelin (Ed Harris) to boss gangu motocyklowego kontrolującego handel narkotykami. Potęgę zawdzięcza trwającemu od lat korupcyjnemu porozumieniu z szefami policji. Jego druga żona, Królowa (Milla Yovovich) dąży do zwiększenia zysków gangu i nakłania męża do zerwania układów z policją. Rozpoczyna się walka o dominację w mieście, brutalni motocykliści terroryzują ulice. Tymczasem jedyna córka Cymbelina, Imogena (Dakota Johnson), potajemnie wiąże się z bezgranicznie w niej zakochanym Postumusem (Penn Badgley). Cymbelin, Królowa i Jachimo (Ethan Hawke) zrobią wszystko, aby zniszczyć tę miłość – w grę wchodzi władza w gangu. Intrygi i zabójstwa zataczają coraz szersze kręgi. Nikt nie jest bezpieczny i nikt nie wie czy przetrwa tę wojnę.
PLOT: On July 31, 2013, it was announced that Ethan Hawke was re-teaming with director Michael Almereyda to star in the adaptation of Cymbeline. He would play Iachimo and production was set to start on August 19 in New York City. Anthony Katagas and Michael Benaroya would be the producers of the film. On August 5, it was announced that Ed Harris had signed to star opposite Hawke. He would play the role of King Cymbeline. Penn Badgley joined the cast in the adaptation of Cymbeline to play the role of orphan Posthumus who secretly marries the daughter of King Cymbeline and is banished by the monarch who raised Posthumus as a son.
On August 8, 2013, Milla Jovovich also joined the cast as a female lead; she would play the role of Queen who schemes to move her own son from a previous marriage onto the throne at the expense of the orphan Posthumus and the King's daughter. More cast added on 12 August included Anton Yelchin and Dakota Johnson, Yelchin would play Cloten, the son of the Queen by a former husband and Johnson would be playing the role of Imogen, the daughter of King Cymbeline from a previous marriage.
PL.BRRiP