Bracia Marx w cyrku / At the Circus (1939)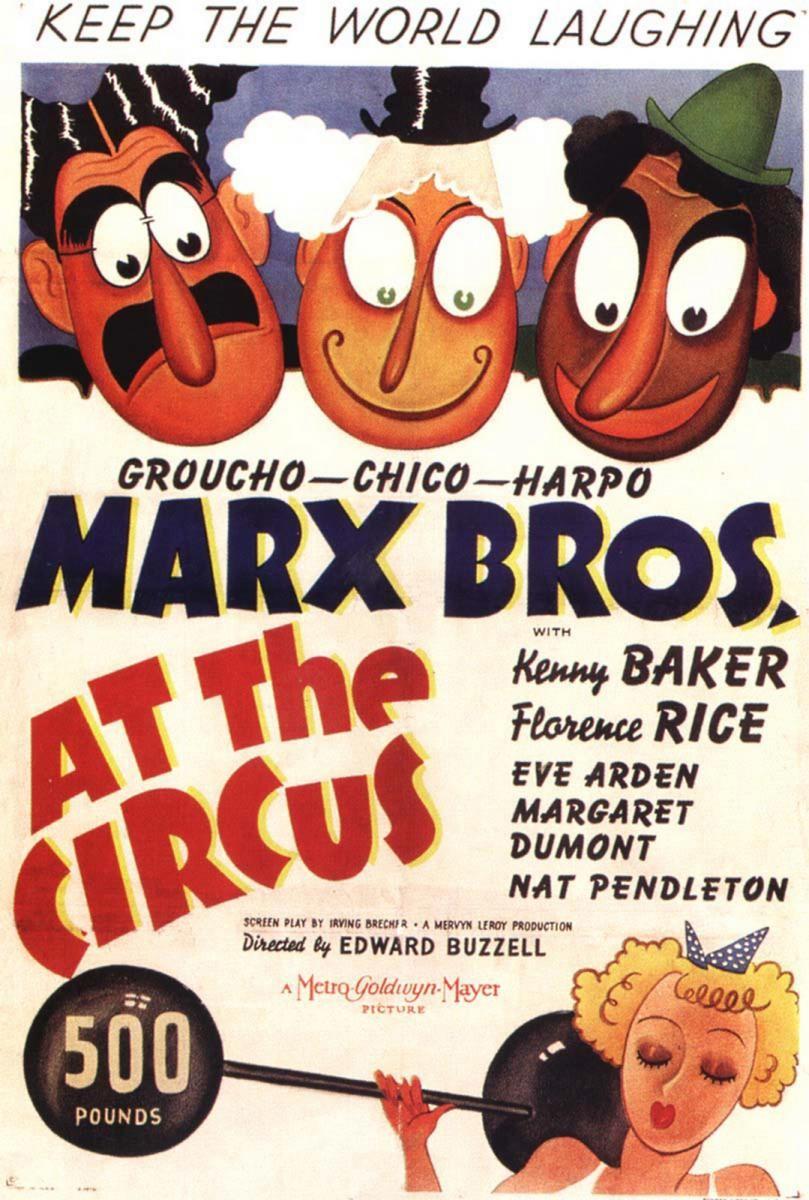 GATUNEK: Komedia, LEKTOR.PL
OPIS FILMU: Pochodzący z zamożnej rodziny z Newport Jeff Wilson porzucił luksusowe życie, aby poświęcić się prowadzeniu cyrku. Teraz stoi jednak w obliczu bankructwa. Straci ukochany cyrk, jeśli nie zapłaci wspólnikowi, Johnowi Carterowi, dziesięciu tysięcy dolarów. Jeden z pracowników, Antonio (Chico Marx), w nadziei, że sprytny prawnik znajdzie jakiś sposób na kłopoty Jeffa, podsyła mu starego przyjaciela, adwokata J. Cheevera Loophole'a (Groucho Marx). Carter, który chce przejąć cyrk, namawia siłacza Goliatha, aby okradł Jeffa z jego oszczędności.
PLOT: Goliath, the circus strongman (Nat Pendleton, one of the Darwin football players in Horse Feathers) and the midget, Little Professor Atom (Jerry Maren) are accomplices of the bad guy John Carter (James Burke) who is trying to take over the Wilson Wonder Circus. Jeff Wilson's girlfriend, Julie Randall (Florence Rice), performs a horse act in the circus. In the animal car on the circus train, Goliath and Atom knock out Jeff Wilson (Kenny Baker) and steal $10,000, which Jeff owes Carter. But they unintentionally leave a cigar as evidence.
Tony (Chico) summons Groucho, as attorney J. Cheever Loophole, to handle the situation. Loophole caves in when he sees the muscular Goliath, and gets nowhere with Little Professor Atom. His attempts to get a cigar from Atom are foiled by Tony, who each time offers to give him one of his own. When Puncy (Harpo) sneezes and knocks the furniture over in Atom's tiny room, the midget threatens to sue. Loophole, ever ready to solicit business, offers his business card, which Atom accepts. In order to help Wilson, he first tries to get the hidden money from Carter's moll, Peerless Pauline (Eve Arden), but fails. Tony and Punchy search Goliath's stateroom on the circus train for the money, but are unsuccessful.
Loophole later calls upon Jeff's wealthy aunt, Mrs. Dukesbury (Margaret Dumont), and tricks her into paying $10,000 for the Wilson Wonder Circus to entertain the Newport 400, instead of a performance by French conductor Jardinet (Fritz Feld), and his symphony orchestra. The "400 of Newport" are delighted with the circus; when Jardinet arrives, Loophole, who also delayed Jardinet by implicating him in a dope ring, disposes of the conductor and his orchestra by having them play on a floating bandstand down at the water's edge.
Tony and Punchy cut the mooring rope while the orchestra plays the Prelude to Act Three of Wagner's Lohengrin, Meanwhile, Carter and his henchmen try to burn down the circus, but are thwarted by loophole, Tony and Punchy, along with the only witness to the robbery – Gibralter the gorilla (Charles Gemora), who also retrieves Wilson's ten thousand dollars.
PL DVDRip 
http://notepad.cc/bracia-marx-w-cyrku-at-the-circus-1939-pl-dvdrip-x