Timbuktu (2014) BRRip X264 AC3-PLAYNOW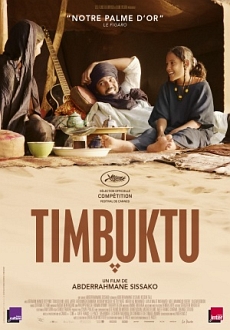 OPIS FILMU: Od czasu gdy fundamentaliści religijni szerzą postrach w regionie, w Timbuktu drzwi wielu domów są zamknięte. Uzbrojeni dżihadyści patrolują wyludnione ulice, tropiąc przejawy zachodniej kultury. Strzelają do niewiernych i niszczą świadectwa pradawnej kultury regionu. Naprędce zwoływane sądy wydają absurdalne i tragiczne wyroki. Niedaleko Timbuktu (ale z dala od terroru fundamentalistów) wraz z rodziną mieszka Kidane. Jest pasterzem i hodowcą bydła. Pewnego dnia Issan – sierota, którym opiekuje się Kidane traci panowanie nad stadem. Jedna z krów niszczy sieci miejscowego rybaka, który w odwecie ją zabija. Wezwany na miejsce Kidane bierze pistolet, który nieoczekiwanie wypala i trafia rybaka. Po przypadkowym zabójstwie mężczyzna stanie się obiektem brutalnego prześladowania i upokorzenia. Stając przed sądem, przyjdzie mu zmierzyć się z nowym prawem, które jest zaprzeczeniem otwartego i tolerancyjnego islamu.
PLOT: Not far from the ancient Malian city of Timbuktu, now ruled by the religious fundamentalists, proud cattle herder Kidane (Ibrahim Ahmed aka Pino) lives peacefully in the dunes with his wife Satima (Toulou Kiki), his daughter Toya (Layla Walet Mohamed), and Issan (Mehdi Ag Mohamed), their twelve-year-old shepherd. In town, the people suffer, powerless, from the regime of terror imposed by the Jihadists determined to control their faith. Music, laughter, cigarettes, even soccer have been banned. The women have become shadows but resist with dignity. Every day, the new improvised courts issue tragic and absurd sentences. Kidane and his family are being spared the chaos that prevails in Timbuktu. But their destiny changes abruptly in this stunningly rendered film from a master of world cinema.
GATUNEK: Dramat
[imdb id="tt3409392″]
 Timbuktu (2014) BRRip X264 AC3-PLAYNOW