Turkey Shoot (2014) BDRip x264-ROVERS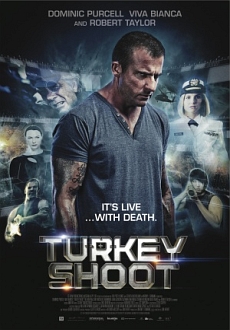 OPIS FILMU: Zhańbiony oficer Navy Seal, którego oskarżono o masakrę ludności cywilnej, dostaje dożywocie w więzieniu o zaostrzonym rygorze. Szansą na wolność jest wzięcie udziału w nadawanym w telewizji show, w którym największe zakapiory walczą ze sobą o przetrwanie.
PLOT: In the near future, SEAL Commander Rick Tyler is sent to Libya to assassinate its leader. After apparently completing the mission he finds himself in a prison charged with war crimesfor murdering the population of a village during the currently ongoing "World War Africa" and his mission apparently failed as the Libyan leader is still alive. Sentenced to death, he is given a temporary reprieve to appear on a popular reality television show called "Turkey Shoot" where he is pitted against a series of professional killers voted for by the audience. If Tyler, who has no weapons, survives three levels of hunting he will receive a pardon.
GATUNEK: Akcja
[imdb id="tt3816614″]
Turkey Shoot (2014) BDRip x264-ROVERS