Wstrząs / Concussion (2013)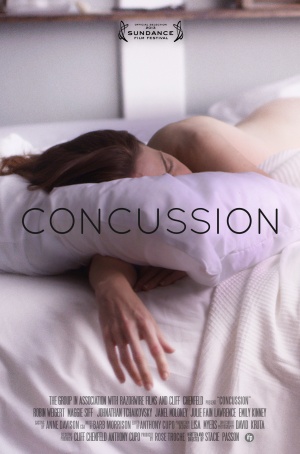 Gatunek: Dramat, LEKTOR.PL
OPIS FILMU: Główna bohaterka, Abbie, przeżywa kryzys wieku średniego. Postanawia porzucić dotychczasowe życie poukładanej, acz sfrustrowanej pani domu i zostaje luksusową prostytutką. Okaże się, czy rewolucja w życiu osobistym przyniesie jej odpowiedzi na pytania o własną tożsamość.
PLOT: Concussion is a 2013 American drama film written and directed by Stacie Passon. The film stars Robin Weigert as Abby, a lesbian who becomes disillusioned with her domestic life and career after suffering a mild concussion when her son accidentally hits her in the head with a thrown baseball, and begins working as a prostitute for other women.
Although the story is not autobiographical, it was partially inspired by Passon herself suffering a mild concussion, in the same manner depicted in the film, shortly before she began writing the screenplay.
The film has been screened at the 2013 Sundance Film Festival and the 2013 Berlin International Film Festival. At Sundance, it secured a deal with The Weinstein Company for general release later in 2013. At Berlin, the film won a Teddy Award Jury Prize as an outstanding film about LGBT themes.
PL.WEB-DL
http://notepad.cc/wstrz-s-concussion-2013-pl-web-dl-xvid-zet