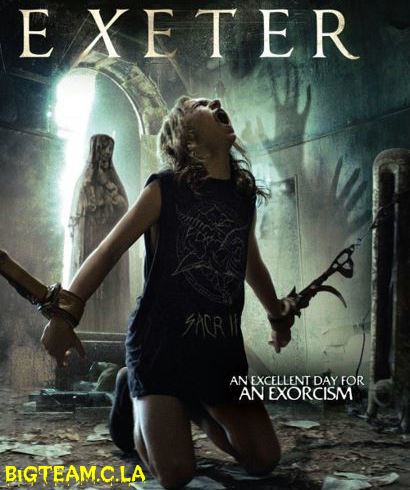 The Asylum / Exeter / Backmask (2015) 
GATUNEK:  Horror, Thriller, LEKTOR.PL
OPIS FILMU: Grupa nastolatków przypadkowo uwalnia złego ducha, który stopniowo przejmuje nad nimi kontrolę.
Podczas suto zakrapianej imprezy w małym miasteczku sześcioro nastolatków odnajduje przypadkiem starą płytę winylową. Gdy dla zabawy decydują się odtworzyć ją od tyłu, wysłuchują przerażającego głosu, który stara się przekazać jakąś wiadomość. W ten sposób uwalniają złowrogiego ducha, stając się jednocześnie świadkami przedziwnych wydarzeń.
PLOT: The movie opens up with a woman's mysterious suicide. Then clips of the Exeter School of the Feeble Minded are shown, along with an account of the history of the place, its demise and abandon. Presently, the asylum is undergoing renovations under the watchful guidance of a priest named Father Conway (Stephen Lang). Patrick (Kelly Blatz), Father Conway's protégé, finds himself in big trouble when his friends decide to hold a party at the asylum. After a night of party, sex and booze, Patrick, his brother Rory and five friends learn about the asylum's dark history when they play a vinyl record backwards. And when they attempt to practice levitation, a series of demonic possessions and paranormal activities ensue and haunt them one by one.
11 Lip 2018
BRRip LEKTOR PL
megadrive.co/smeaadkz1tv9
racaty.com/1bighg8biye4
grifthost.com/ks7gbahjiruv
suprafiles.net/4fr0n340vpwc
mirrorace.com/m/49tA2
multiup.org/d78dad52b681da6527a67b59908bb01c
waaw.tv/watch_video.php?v=fOMTcFtTT2mt

filefloater.com/29Gr/Exeter.2015.PL.BRRip.XviD.GR4PE.avi
www.heroupload.us/c5254aa8ff058994/Exeter.2015.PL.BRRip.XviD.GR4PE.avi
[collapse]
3 Lip 2015
HDRip
http://justpaste.it/Exeter-2015-HDRip-EVO
[collapse]
TRAiLER
http://dai.ly/x2ed9jz
[collapse]