Mystery Road (2013)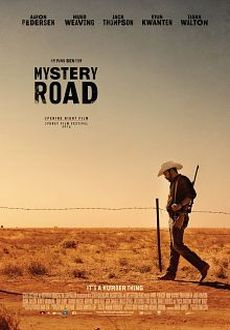 OPIS: Bohaterem jest detektyw policyjny, który po wielu latach wraca w swoje rodzinne strony. Podejmuje się śledztwa mającego na celu wyjaśnienie brutalnej śmierci miejscowej nastolatki.
PLOT: In the Australian film, MYSTERY ROAD, Jay Swan, AARON PEDERSEN, an aboriginal detective, has returned to his home town in the Outback after some time away in the city. The only indigenous member of a local force that includes commanding officer TONY BARRY and enigmatic HUGO WEAVING, Swan soon finds himself investigating a murder – the death of a young girl whose body is found beside the road. The investigation reveals a sinister underside to the community.
Ivan Sen's outback thriller has a great deal going for it: spectacular widescreen photography, a very charismatic central performance, an intriguing plot that, in classic style, gradually reveals more and more layers that surround the murder investigation. There's a superlative cast that includes DAVID FIELD as a local property owner, RYAN KWANTEN as a kangaroo shooter, JACK THOMPSON as a grizzled old timer, TASMA WALTON as Swan's ex-wife, TRICIA WHITTON as his daughter and BRUCE SPENCE as the town coroner. Despite all these qualities, the film doesn't quite soar; maybe Sen, who wrote it, photographed it, edited it AND composed the music, was too close to the material to see that there are some troubling confusions, that the screenplay doesn't always join all the dots, that important questions remain unanswered. MYSTERY ROAD is, indeed, a bit of a mystery – but there are so many wonderful elements to the film that you wish the confusions had been ironed out more satisfactorily.
Tytuł: Mystery Road
Produkcja..: Australia
Gatunek..: Thriller
Czas trwania..: 118 min.
Premiera..: 05.06.2013 – Świat
Reżyseria.: Ivan Sen
Scenariusz..: Ivan Sen
Aktorzy.: Hugo Weaving, Ryan Kwanten, Jack Thompson, Damian Walshe-Howling
BDRip
http://notepad.cc/mystery-road-2013-bdrip