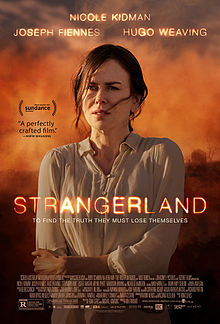 Strangerland (2015)
 Dramat, Thriller
 Bohaterami są małżonkowie Catherine i Matthew Parkerowie (Nicole Kidman i Joseph Fiennes), których dzieci zaginęły na pustyni. W obsadzie znalazł się także Hugo Weaving, w roli detektywa Davida Rae.
Ten film to mroczna opowieść o małomiasteczkowej społeczności i rodzinnych relacjach. Parkerowie stają przed rodzinnym dramatem i koniecznością rozwikłania zamiecionych pod dywan problemów, gdy z domu uciekają ich dzieci. Przerażeni rodzice zaczynają poszukiwania. Wokół australijskie pustkowia, palący żar z nieba, uciekający czas i skrywane rodzinne tajemnice.
 Catherine (Nicole Kidman) and Matthew Parker (Joseph Fiennes) are trying to adjust to their new life in the remote Australian desert town of Nathgari. They are pleasant but keep to themselves, unwilling to get close to anyone. On the eve of a massive dust storm, their lives are rocked when their two teenage children, Lily and Tom, disappear into the desert. With Nathgari now eerily smothered in red dust and darkness, the locals join the search lead by local cop, David Rae (Hugo Weaving). It soon becomes apparent that something terrible may have happened to them. Suspicion is cast, rumors spread, and ancient Aboriginal stories are told in whispers as the locals begin to turn against the couple. With temperatures rising and the chances of survival plummeting with each passing day, Catherine and Matthew find themselves pushed to the brink, as they struggle to survive the uncertainty of their children's fate.
[imdb id="tt2325977″]
PL.BDRip.x264-KiT / Lektor PL
Strangerland (2015) PLSUBBED BRRip XviD AC3-KiT
Strangerland (2015) BDRip X264-DEFLATE