Zero Motivation / Zero motywacji (2014) LIMITED DVDRip x264-RedBlade-TiFF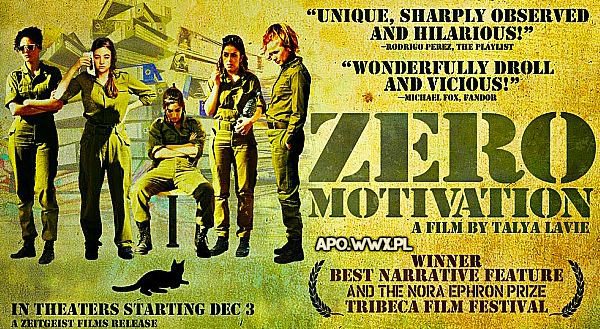 OPIS FILMU: "Zero motywacji" przybliża perypetie kobiet, które znalazły się w oddziale administracyjnym pewnej jednostki wojskowej , którą dowodzi Rama. Mają one stosunkowo łatwo. Nie ryzykują życia, obowiązki wartownicze i inne mniej przyjemne żołnierskie czynności prawie ich nie dotyczą. Do najistotniejszych zadań należy przygotowywanie kawy na spotkania sztabu. Jednak nie wszystkie służące w oddziale kobiety są ze swojego miejsca zadowolone. Daffi, stanowiąca jednoosobową jednostkę do spraw niszczenia niepotrzebnych dokumentów, większość czasu spędza zalana łzami. Nie chce tu być. Marzy jej się służba w Tel Avivie. I robi wszystko, by zostać tam przeniesiona… niestety bezskutecznie. Zohar z kolei jest najgorszym typem żołnierza: zbyt inteligentna dla większości dowódców, diabelsko złośliwa i do tego całkowicie pozbawiona motywacji, by zrobić ze swoim życiem cokolwiek. Liczy się dla niej jedynie przyjaźń z Daffi i gra w "sapera". A jeśli ktoś wyda jej jakikolwiek rozkaz, to czyni to ku własnej zgubie.
PLOT: PRIVATE BENJAMIN meets M*A*S*H, speaks Hebrew, and keeps kosher. Set in a remote desert military base, a platoon of young women soldiers, all Israeli conscripts, serve out their time playing computer games, singing pop songs, and conspiring to get transferred to Tel Aviv — while endlessly serving coffee to the men who run the show. Here's an Israeli film filled with funny, quick-witted, zany women who wield their staple guns like automatic weaponry. If there is a war going on, it's one against boredom, bad uniforms, dopey rules, and doing everything in triplicate. Debut filmmaker Talya Lavie is Israel's answer to Lena Dunham: ZERO MOTIVATION has had rave reviews and huge audiences. Winner of the top prize for narrative world cinema at the Tribeca Film Festival.
GATUNEK: Dramat, Komedia
[imdb id="tt3576084″]
Zero Motivation / Zero motywacji (2014) LIMITED DVDRip x264-RedBlade