A Little Chaos (2014) BDRip x264-GECKOS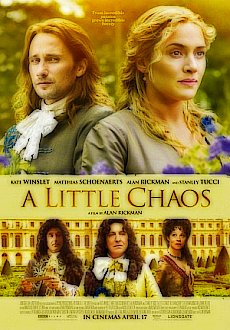 OPIS FILMU: Historia konkurujących ze sobą projektantów ogrodów, którzy na zlecenie Ludwika XIV mają stworzyć fontannę w Wersalu.
PLOT: After having been appointed by King Louis XIV of France on a project for the gardens of Versailles, landscaper Monsieur André Le Nôtre interviews various contractors for embarking on this project, one of whom is a woman with a non-traditional sense of gardening, Sabine de Barra. When noticing her move a plant pot in his garden prior to her interview, André confirmes Sabine is not a conformist in gardening, which she explaines during the interview as wanting to give something uniquely French and not simply abide by the past.
On the night of her interview, Sabine is surprisingly visited by André at her home; she was sure she would not be accepted for his embarking, but this visit proved otherwise. Sabine is appointed to the task of building a fountain surrounding a small outdoor ballroom amidst a patch of thick woods. She makes little progress at first because the workers she is given are not keen to work for a woman. Monsieur Thierry Duras (also a fictional character), a man she met at André's house for an interview, intervenes and offers his and his crew's help. Sabine adjustes André's plans by creating a water pump to take the water from a nearby river, use it for the fountain, and take it back to its initial place.
As time goes by, Sabine is noticed by the higher elite, befriending above all the King's brother Duc Philippe d'Orleans and his wife Elizabeth Charlotte, Princess Palatine. During this time, the memory of a girl persists in haunting Sabine. Every now and then, she hears the girl's voice calling or sees sudden apparitions of a girl clad in white running past and disappearing. This also keeps her from showing her love to André, who himself is facing loneliness in his marriage to the proud and haughty Madame Françoise Le Nôtre who had insisted on her sexual freedom outside their marriage. When she challenges his at first innocent interest in Sabine, he quotes her own speech of freedom back at her and leaves, intending to pursue the relationship with Sabine.
On a stormy day, Françoise visits Sabine on the working site, falsely warning her that André's passionate intentions were only a whim, and when Sabine leaves, two men instructed by Françoise's lover open the sluice gates from the river and flood the whole project, mostly destroying the plants brought to decorate and some of the earthwork tiers.
Queen Maria Theresa dies suddenly, causing the royal family great sorrow, especially in the way her autopsy was said to have been carried out. André notified his wife about this, which shocked her as she knew that the death of the Queen would bring her down as she would fall out of favour in court. Sabine accidentally encounters the king at a famous garder's, befriending the king after mistaking him for his gardener, something the king found amusing and did not wish to stop even after Sabine found out his true identity. She finds great favour in the king's eyes, and he invites her to travel with him and his court to Fontainebleau.
There she was accompanied by the Duc de Lauzun and was then introduced to the female courtiers by the Marquise de Montespan, official lover of the King. There she meets women of the court who had also lost husbands and children, but it was only permitted to speak of death within the group, for the King abhorred discussing death in his court. When the King and his male entourage arrived, the Marquise presents Sabine to him, and Sabine offered him a four-seasons flower, which inspires a conversation between the King and Sabine on the metaphorical nature of the rose and its life cycle, a metaphor intended to warm him toward his mistress.
André waits for Sabine outside her room that night, having now fallen completely in love with her. Sabine lets go of her remorse for her husband's loss years ago, and they finally make love. In the morning, André finds himself alone in bed. The scene jumps to Sabine at her home as she relives in her mind the death of her adulterous husband and innocent daughter. Monsieur de Barra admits his adultery and leaves to visit her with his daughter. Sabine heard the carriage start its journey, but when she saw one of the wheels was faulty, she ran to stop it. She had rushed in front of the carriage, the coachman pulled the reigns, the horses fled, the wheel broke and the carriage toppled down a small hill, killing both father and daughter. André finds Sabine in the grip of this memory, convincing her to stop blaming herself for their death and comforting her.
And so now, after André gave back his wife a glove she had dropped in the work site (which naturally gave away her involvement of the site flooding),
Finally, the fountain-arena project is finished, the court comes to see the long-anticipated site. To the music of a hidden orchestra, the King, Sabine, and André along with the court enter the garden, admire the marble floor surrounded by fountains and tiers of water, and dance around the happy and satisfied King.
GATUNEK: Dramat, Komedia, Romans
[imdb id="tt2639254″]
A Little Chaos (2014) BDRip x264-GECKOS