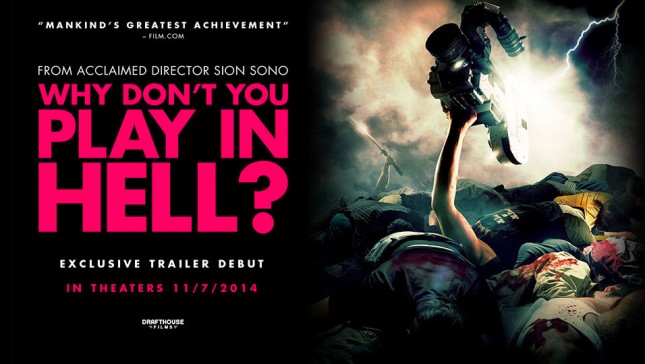 Zabawmy się w piekle / Why Dont You Play In Hell? (2013) 
GATUNEK: Akcja, Komedia, Dramat
OPIS FILMU: Żywiołowa czarna komedia o perypetiach grupy młodych filmowców, którzy zostają
wplątani w gangsterskie porachunki. Film pełen jest akcji i brawurowych scen walk.
PLOT: There's a war going on, but that won't stop the inexperienced but eager wannabe film crew The Fuck Bombers from following their dreams of making the ultimate action epic. Ten years ago, yakuza mid-boss Ikegami led an assault against rival don Muto. Now, on the eve of his revenge, all Muto wants to do is complete his masterpiece, a feature film with his daughter in the starring role, before his wife is released from prison. And The Fuck Bombers are standing by with the chance of a lifetime: to film a real, live yakuza battle to the death on 35mm.
[imdb id="tt2409302″]