Holy Ghost People  (2013)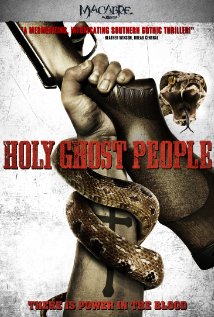 OPIS FILMU: 19-letnia Charlotte podejrzewa, że zaginiona siostra została uprowadzona i przebywa gdzieś w górach Appalachów. Próbując na własną rękę ją odnaleźć, dziewczyna zwraca się o pomoc do byłego żołnierza Marine, Wayne'a. Poszukiwania prowadzą ich do Kościoła Ducha Świętego, religijnego ruchu, któremu przewodzi charyzmatyczny manipulant, kaznodzieja Billy.
PLOT: On the trail of her missing sister, Charlotte enlists the help of Wayne, an ex-Marine and alcoholic, to infiltrate the Church of One Accord – a community of snake-handlers who risk their lives seeking salvation in the Holy Ghost.
Tytuł.: Holy Ghost People
Produkcja.: USA
Gatunek.: Dramat, Thriller
Czas trwania.: 90 min.
Premiera.: 10.03.2013 – Świat
Reżyseria.: Mitchell Altieri
Scenariusz.: Kevin Artigue, Joe Egender, Joe Egender, Phil Flores
Aktorzy.: Emma Greenwell, Joe Egender, Brendan McCarthy
Holy Ghost People  (2013)