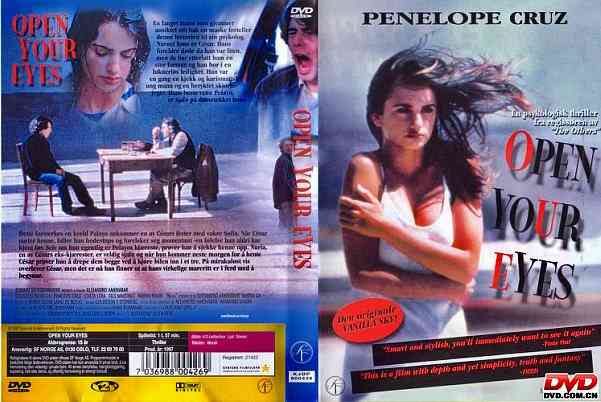 Open Your Eyes / Otwórz oczy (1997) 
GATUNEK – Dramat, Mystery, Thriller / LEKTOR.PL
OPIS FILMU – Więzień, który ukrywa twarz za maską opowiada swoją historię psychiatrze. Nazywa się César, jest sierotą, ale odziedziczył fortunę po swoich rodzicach i żył w luksusowym domu. Był również bardzo przystojnym i słynnym kobieciarzem. Jego najlepszy przyjaciel Pelayo był o niego zazdrosny, ponieważ nie miał zbyt dużego powodzenia u kobiet. Ale pewnej nocy, Pelayo pokazuje się na jednym z przyjęć Césara z piękną kobietą – Sofíą. Kiedy César ją poznaje i rozmawia z nią zaczyna czuć coś czego wcześniej nie czuł – zakochał się. I mimo że była przypuszczalnie dziewczyną Pelayo próbował ją zdobyć spędzając tę noc w jej domu. Zazdrosna Nuria, z którą César miał ostatnio romans przyjechała następnego ranka po niego swoim samochodem i popełniła samobójstwo uderzając w drzewo. César przeżył wypadek, ale jego twarz została ohydnie zniekształcona. Lekarze nie mogli mu pomóc. Był bardzo przygnębiony i ciągle zakochany w Sofii. Pewnej nocy wyszedł z nią i Pelayo, ale czuł że czują się oni nieswojo w jego towarzystwie. Następnego ranka jego los zupełnie się odmienił. Przyszła Sofia z wyznaniem miłości, zadzwonili lekarze z wiadomością o możliwości odbudowy twarzy, co też zrobili. César był szczęśliwszy niż kiedykolwiek, ale właśnie wtedy zaczęły się dziać dziwne i straszne rzeczy.
PLOT – A young, handsome man wakes up to a female voice telling him to open his eyes. He drives to an empty city. He wakes up again, this time to a woman in his bed. He tells her not to leave messages on his alarm.
From a prison cell in Madrid, the 25-year old man, César (Eduardo Noriega), tells his story to psychiatrist Antonio (Chete Lera) while wearing a prosthetic mask. Flashbacks reveal the following events: good-looking César is attractive to women. At his birthday party, he flirts with Sofía (Penélope Cruz), the girlfriend of his best friend Pelayo (Fele Martínez). Later on, he takes her home and stays the night, although they do not sleep together. The next morning, César's obsessive ex-lover Nuria (Najwa Nimri) pulls up outside Sofía's flat, offering him a ride and sex. On the way to her home, however, she crashes the car with the intent to kill them both. César is horribly disfigured, beyond the help of cosmetic surgery. Sofía cannot bear to see him like this and goes back to Pelayo.
After César's disfigurement, he begins to have a series of disorienting experiences. Drunk, César falls asleep in the street. On awakening, everything has changed: Sofía now claims to love him and the surgeons restore his lost looks. But as he makes love to Sofía one night, she changes into Nuria. Horrified, César smothers her with a pillow, yet finds everyone else believes Nuria was indeed the woman everyone else calls Sofía.
While he is confined to the prison, fragments of his past return to him as if in a dream. It is revealed that, shortly after his disfigurement, César contracted with Life Extension, a company specializing in cryonics, to be cryogenically preserved and to experience extremely lucid and lifelike virtual reality dreams. Returning to their headquarters, under supervision by prison officers, he discovers they specialise in cryonics with a twist: "artificial perception" or the provision of a fantasy based on the past to clients who are reborn in the future. He had committed suicide at home after sleeping drunk on the street, and was placed in cryonic suspension. His experiences from about the midpoint of the movie onward have been a dream, spliced retroactively into his actual life and replacing his true memories. At the end of the film he elects to wake up and be resurrected. Convinced his life since the drunken night in the street is simply a nightmarish vision created by Life Extension, César leaps from the roof of the company's high-rise headquarters, and wakes to a female voice telling him to relax and open his eyes.
[imdb id="tt0125659″]
Open Your Eyes / Otwórz oczy (1997) PL