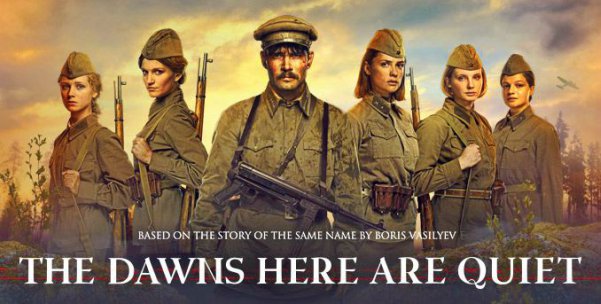 Tak tu cicho o zmierzchu / A zori zdes tikhie (1972) 
GATUNEK – Dramat, Wojenny, LEKTOR.PL
OPIS FILMU – Na froncie rosyjskim trwają walki II wojny światowej. Pięciu młodych niedoświadczonych żołnierzy w spódnicach oraz ich dowódca, Fiodor, wyrusza w bój. Wszyscy mają za zadanie opóźnić działanie wroga. Taktyka tego małego oddziału jest prosta – podążać krok w krok za wrogiem, wczuć się i rozgryźć jego intencje, wyprzedzić działania i zlikwidować.
Sposoby działania dzielnych członków oddziału są różne. Raz starają się odwrócić uwagę wroga udając drwali, innym razem prowadzą "zmasowany" atak formacją, która nie istnieje… Ale walczą do końca. Heroiczny bój bohaterskiej szóstki kończy się połowicznym sukcesem.
A las szumiał: tak tu cicho o zmierzchu…
PLOT – The film is set in Karelia (near Finland) in 1942 during World War II and was filmed near Ruskeala. Senior Sergeant Vaskov is stationed with a group of young female anti-aircraft gunners in a railway station far from the front line. Vaskov is not used to these gunners' active, playful personalities and therefore clashes with them over daily issues. But Vaskov, being the only man in the village, has to accommodate them in many cases.
One day, two German paratroopers appear in the forest nearby. Thinking that they may sabotage military facilities, Vaskov and five of the women attempt to stop the Germans. They pick a perfect defense position, only to find that there are sixteen paratroopers instead of two. Though outgunned and outnumbered, Vaskov decides to hold the Germans for as long as possible. He also sends one of his soldiers out for reinforcements, but while she is trudging through a swamp, she drowns in a quagmire. Vaskov and the remaining four fight the Germans. All four women are killed in action. Vaskov is also seriously wounded and finds the drowned soldier's clothes near the swamp. The desperate Vaskov, armed only with knife, one-rounded Nagant and deactivated hand-grenade, attacks the cabin where the Germans are resting. The Germans are totally surprised and are either killed or captured. Meanwhile, reinforcements find Vaskov before he passes out.
Twenty years after the war ends, Vaskov visits the place again with the adopted son of one of the women.