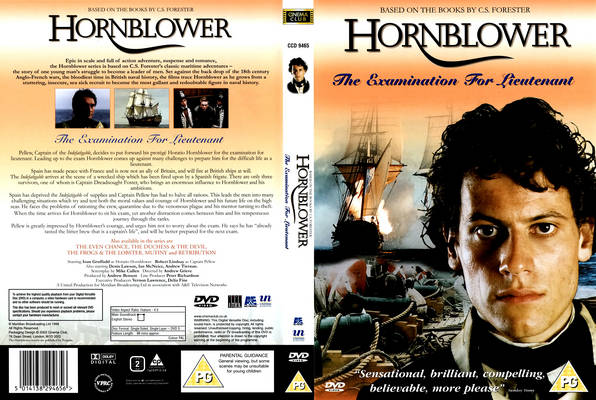 Hornblower: Egzamin na porucznika / Hornblower: The Examination for Lieutenant  (1998) 
OPIS FILMU – Nierozważny, ale legendarny Kapitan Foster woli raczej zniszczyć statek z zaopatrzeniem niż pozwalić aby dostał się w ręce nieprzyjaciela. On i jego załoga zostają uratowani przez "Indefatigable". Hornblower podziwia Fostera, w przeciwieństwie do kapitana Pellewa, który patrzy na jego poczynania z dezaprobatą. Strata rezerw zmusza załogę do zmniejszenia racji o połowę, co wywołuje powszechne niezadowolenie. Buntowniczym nastrojom przewodzi Bunting. Hornblower próbuje się uczyć do swojego egzaminu na porucznika, ale dostaje rozkaz towarzyszenia dyplomatom i Taplingowi w zabezpieczeniu rezerw żywności. Kiedy Tapling i Hornblower odkrywają, że ziarno i bydło może być zarażone, Hornblower musi poddać swoją załogę i ładunek kwarantannie, wbrew Fosterowi, który ma zamiar dostarczyć zaopatrzenie.
PLOT – Sir Edward Pellew, Captain of HMS Indefatigable decides to put his protégé, Horatio Hornblower, forward for the examination for lieutenant. Leading up to the exam, Hornblower faces many challenges.
Spain has made peace with France and is no longer an ally of Britain – Spanish ships, although technically neutral, begin to attack British ships. Wreckage from one supply ship has already been found by HMS Indefatigable.Indefatigable finds three survivors; among them is Captain "Dreadnought" Foster, a famously heroic officer who influences the ambitious Hornblower.
Spain's actions have deprived the Gibraltar fleet of its supplies leaving the captains no alternative but to cut rations by half. This leads seaman Bunting (Andrew Tiernan) to commit theft, as his friend has died of scurvy and he fears going the same way. He was caught by Hornblower, reprimanded by Pellew and punished by being made to run the gauntlet.
Soon a Mr Tapling from the diplomatic service arrives, and he and Hornblower head ashore to Oran, in Ottoman Algeria, to buy grain and cattle for the fleet. Soon it is discovered that this is a plague town and so Hornblower is appointed captain of the Caroline, a transport schooner, and spends his three weeks of mandatory quarantine at sea with the rations. Bunting had tried to escape in the longboat and get to shore but had been caught again by Hornblower, and now was his prisoner. Hornblower, short of hands on the Caroline but also keen to redeem Bunting, gives him a chance to prove his worth. Later, while they are ashore to load water, they are attacked by Spanish soldiers, and Bunting tries to escape again. Hornblower catches him, but Bunting forces Hornblower to shoot him.
They return to the Caroline to discover that Captain Foster has arrived in HMS Dreadnought and has sent a boarding party to take cattle from the Caroline, which is still under quarantine. Hornblower manages to stop the boarding party just before their boat reaches Dreadnought, and he requests that Foster send both the meat and the boarding party back to the Caroline. Foster refuses and he appears angry with Hornblower.
They return to HMS Indefatigable at Gibraltar, and Hornblower attempts his exam. He appears to be failing until a fire ship sails into the anchorage, and Hornblower and Foster go aboard and steer it clear of the fleet. Pellew remarks on Hornblower's courage and he is allowed to keep his rank until the next exam. Indefatigable sails off into the distance.
GATUNEK –  Kostiumowy, Przygodowy, Wojenny
Hornblower Egzamin na porucznika / Hornblower The Examination for Lieutenant (1998) PL TVRip