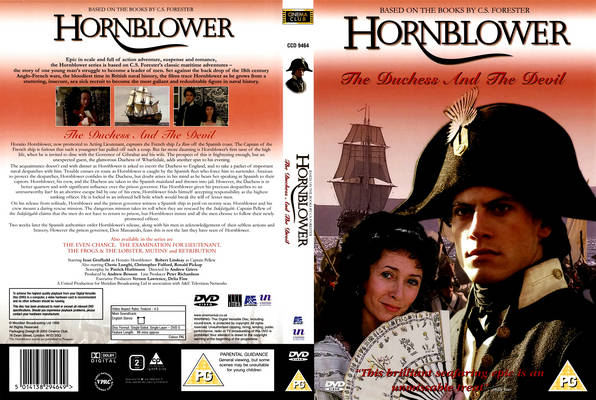 Hornblower: Księżna i diabeł / Hornblower: The Duchess and the Devil (1999)
GATUNEK – Kostiumowy, Przygodowy, Wojenny, LEKTOR.PL
OPIS FILMU – Hornblower zdobywa Francuzki okręt "Le Reve", kapitan Pellew prosi go aby płynął nim do Anglii gdzie będzie cennym nabytkiem dla angielskiej marynarki wojennej. Przy okazji ma eskortować Księżną Wharfedale do domu. Nieszczęśliwie, "Le Reve", Hornblower, księżna i załoga wpadają w rece Hiszpanów i uwięzieni. Horatio spotyka Kennediego, załamanego i wyniszczonego po miesiącach samotnej niewoli. Przewaga wroga jest znaczna. Horatio postanawia znaleść sposób na ucieczkę z Kennedym, mimo protestom Hunter'a , i z rosnącym podejrzeniem że księżna może być kimś innym niż osobą za którą sie podaje.
PLOT –  Acting Lieutenant Horatio Hornblower and his men launch a surprise attack on the French supply ship La Reve and capture it.
Back on the HMS Indefatigable, Captain Edward Pellew orders Horatio to take command of La Reve and sail it to Portsmouth, where it is to be sold for ₤4,000 to serve as a dispatch ship, and informs him that they have both been invited to a dinner party hosted by Major General Sir Hew Dalrymple, the Governor of Gibraltar. Among the guests is a woman identified as the Duchess of Wharfedale.
After the party, Horatio is ordered by Captain Pellew to also escort the Duchess home to England. However, before they can reach England, La Reve sails into a Spanish fleet, which was believed to be anchored at Cadiz. Horatio tries to sell himself and his crew as French, but an officer aboard one of the Spanish ships knows of the recent capture of La Reve. Horatio and his crew are taken to a Spanish prison, run by the Don Alfredo de Massaredo. In his cell, Horatio is reunited with Midshipman Archie Kennedy, who went MIA in "The Even Chance". While Horatio says they should wait to escape until both Archie is well enough to travel and they know more about the Spanish garrison holding them, a hot-headed Midshipman Hunter launches an escape attempt early and fails. With Hunter injured, Horatio takes the blame for the escape attempt and is punished in Hunter's stead. During his imprisonment, Archie reveals to Horatio that the Duchess isn't a duchess, but an actress named Katherine "Kitty" Cobham, pretending to be the Duchess of Wharfedale so she may return to England. Shortly after, the "Duchess" is given passage on Almeria, a ship sailing to Oporto in neutral Portugal.
On a stormy day, Horatio and the Don witness a naval encounter between Almeria, which is believed to have dropped the "Duchess" off at Oporto, and Indefatigable, leaving Almeria damaged on the rocks. Horatio volunteers to rescue the people on board and gives his word that he and his crew will return. Aboard the ship is Kitty Cobham. After rescuing the Spanish crew, Horatio and his crew are picked up by Indefatigable, where Captain Pellew informs Horatio and the "Duchess" that, for his bravery in the Fire Ship Attack on Gibraltar, he has been promoted to Lieutenant. Horatio keeps his word and asks Captain Pellew to sail back to the prison. Horatio is however released by the Spanish government for his bravery in saving Spanish sailors.