Vacation / W nowym zwierciadle: Wakacje (2015)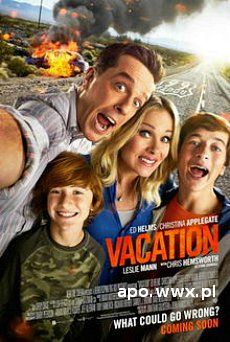 GATUNEK – Komedia, Przygodowy, LEKTOR.PL
OPiS FiLMU – Kolejne pokolenie Griswoldów wyrusza na wakacje. Dorosły Rusty Griswold, pełen nadziei na zacieśnienie rodzinnych relacji, idąc w ślady swojego ojca, organizuje niespodziankę dla swojej żony Debbie i dwóch synów. Jest nią wycieczka do Wallay World — ulubionego parku rozrywki całej Ameryki.
PLOT – Rusty Griswold (Ed Helms) is a disenchanted pilot for Econo-Air, and he shares a very estranged relationship with his wife, Debbie (Christina Applegate), and their two sons, the shy and anxious older son, James (Skyler Gisondo), and the cruel and mean-spirited younger son, Kevin (Steele Stebbins). Envious of the vacation the family of his friends, Jack (Keegan-Michael Key) and Nancy (Regina Hall), had in Paris, he decides to nix his family's annual trip to their cabin in Cheboygan, Michigan and instead drive cross country to Walley World, just as he had years before with his parents and sister, Audrey Griswold (Leslie Mann) (as seen in the original Vacation film).
Along the way, the Griswolds make many stops. The first is Memphis, where it's revealed that the otherwise laid-back Debbie was an extremely promiscuous woman in college. While staying at a motel, James meets Adena (Catherine Missal), a girl his age that he saw while driving on the highway, but is scared away by Rusty trying to entice her towards him in a very creepy awkward way. In Arkansas, they are led to a supposedly hidden spring by a drifter, but when they realize that it's a sewage dump, they return to their car only to see it broken into and their luggage and cash stolen. They're then forced to stop in Texas to receive assistance from Rusty's sister, Audrey (Leslie Mann), and her husband, Stone Crandall (Chris Hemsworth). Rusty begins to suspect tension in his relationship with Debbie due to Stone's obviously outward sexual behavior and actions, but she dispels his suspicions.
Spending the following night at an Arizona campsite, Rusty and Debbie go off to have an unsuccessful attempt at sex at the Four Corners while James finally asserts himself against Kevin with help from Adena (who also happens to be there). The next morning, after nearly getting killed by a suicidal rafting guide (Charlie Day) in the Grand Canyon, their rental car runs out of gas in the middle of the desert and explodes, leading Rusty to relent over the miserable trip and walk off alone. After being tailed-down by a seemingly manic truck driver (Norman Reedus) over what was thought to be a derogatory comment left by Kevin earlier in the trip, he instead returns Debbie's missing wedding ring and gives them a lift to San Francisco, where they spend the night at a bed-and-breakfast run by Rusty's parents, Clark (Chevy Chase) and Ellen (Beverly D'Angelo), with the intent of flying home to Chicago the next day. It's there that Rusty and Debbie confront each other about their eroding marriage and decide to start over again.
With some coaxing by Clark the next morning, Rusty decides to drive his family to Walley World to ride their newest coaster, Velociraptor. After spending the entire day waiting in line, they are cut off by a more successful airline pilot rival of Rusty's and his family before the announcement of the park's closing. The two families brawl in the line, ending with the other family deciding to flee. The Griswolds finally board the ride, but it stalls halfway up a loop, and they are rescued after several hours. They are brought closer by the experience, and Rusty uses his airline connections to spend a relaxing vacation in Paris alone with Debbie.