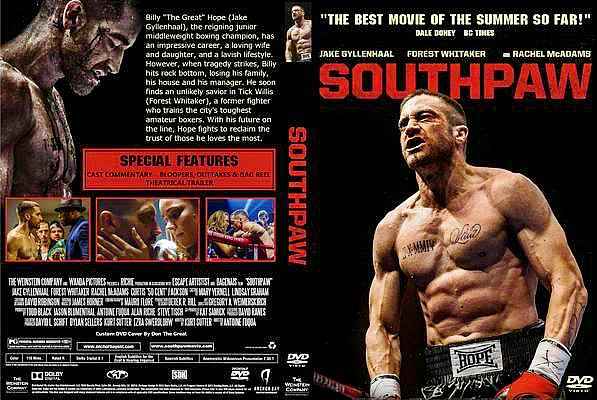 DO UTRATY SIŁ / SOUTHPAW (2015)
GATUNEK – Akcja, Dramat, Sportowy
OPIS FILMU – Głównego bohatera "Do utraty sił"poznajemy, gdy jest u szczytu swej bokserskiej kariery. Billy Hope właśnie ponownie obronił mistrzostwo świata. Jego ryzykowny, niemal pozbawiony obrony styl przyniósł mu uwielbienie kibiców i pieniądze. Billy ma kochającą żonę i zapatrzoną w niego córkę. Do tego mnóstwo przyjaciół i wiernego menagera. Wszystko układa się znakomicie. Do czasu…
Billy jest dumnym, zadziornym lekkoduchem. Te cechy, w pewnym, kluczowym momencie, stają się mieszanką wybuchową, która doprowadza do całej serii nieszczęść. Mistrz traci mistrzostwo, mąż żonę, a ojciec córkę. Tak zaczyna się emocjonalny rollercoaster, w który wpada główny bohater, porywając przy okazji też widzów.
Sceny walk są fantastyczne! Aż kipią energią, sprawiając, że czujemy każdy cios, unik czy blok. Kamera szaleje, ujęcia są zaskakująco pomysłowe, a montaż skleja to wszystko w imponującą całość. Od razu przypomina się seria "Rocky", w której bohaterowie otrzymywali dziesiątki ciosów, a obrona była dla słabeuszy.
Ogromny podziw wzbudza grający Billego – Jake Gyllenhaal. Facet po morderczym treningu do roli wygląda w filmie niesamowicie. Dodając do tego jego ponadprzeciętne umiejętności aktorskie i charyzmę, otrzymujemy zapadającą w pamięć kreację. Wcale nie gorzej spisali się pozostali.
Forest Whitaker to genialny aktor i rolą trenera Billy'ego, ponownie to udowodnił. Pomaga upadłemu mistrzowi w dojściu do siebie, zarówno prywatnie jak i sportowo. Jednocześnie sam jest człowiekiem pełnym zagadek i trudnej przeszłości, co widać na pierwszy rzut oka. Drugoplanowe występy Rachel Mc Adams oraz 50 Cent'a to także przykład solidnie wykonanej roboty.
Film naturalnie ma swoje wady. Można mu zarzucić schematyczność, podobieństwo do innych filmów o bokserach, czy niewiarygodne zwroty akcji. To wszystko jest jednak bardzo filmowe, a upadek na dno i końcowe zwycięstwo są przecież solą tego typu historii.
Oglądając film Antoine Fuqua nie zmęczymy się do utraty sił, lecz nabierzemy ich całe mnóstwo. To solidny dramat sportowo-obyczajowy i jedna z tych historii, które sprawiają, że z kina wychodzimy naładowani pozytywną energią, mimo łez wylanych pięć minut wcześniej.
PLOT – Billy Hope (Jake Gyllenhaal) is an undefeated professional boxer living in New York City with his wife Maureen (Rachel McAdams) and their daughter Leila (Oona Laurence). During a match in which he defends his World Light Heavyweight title, Billy sustains an eye injury and is convinced by Maureen to retire while he's on top. At a charity event for the orphanage where he and his wife both grew up, Billy is taunted by an up-and-coming boxer, Miguel "Magic" Escobar, leading to a brawl in which Maureen is accidentally shot and killed by Miguel's brother Hector, who flees.
Billy begins abusing alcohol and drugs while obsessively searching for Hector. He eventually gets a tip of Hector's whereabouts but finds only his prey's drug-addicted wife Maria (Rita Ora), and leaves after learning Hector is a father. After attacking a referee out of frustration after losing a fight, Billy is suspended and left indebted, leading to his house and belongings being repossessed. He continues to spiral out of control and nearly dies after crashing his car while driving intoxicated, which also causes him to lose custody of Leila, who is put under care of Child Protective Services officer Angela Rivera (Naomie Harris). The incident drives Billy to sober up, but Leila cuts ties with him, blaming him for their predicament.
At the behest of friends, Billy gets a job as a cleaner at a gym owned by seasoned boxer Titus "Tick" Wills (Forest Whitaker), and eventually convinces Tick to become his trainer. Billy's former manager, Jordan Mains (50 Cent), who is currently managing Miguel, arranges a fight between the two that could put Billy back in the spotlight. Tick is reluctant to train Billy, fearful he might be blinded by his vendetta against Miguel, but is motivated to do so when another of his students is killed by his abusive father while attempting to defend his mother.
Seeing Billy's hard work after securing a job and keeping it, and his ability to show responsibilities of a father, the judge removes his visitation restrictions and congratulates him for his good work. Billy then takes Leila to his apartment where they have breakfast together and then they go to visit Maureen's grave, where father daughter share a tender moment.
Leila is reluctant to forgive her father, but she is allowed to watch the fight with Angela, via closed circuit television in the locker room. As the match begins, Miguel has the upper hand against Billy, but, with Tick's advice, Billy has the chance to turn the tables in the final round by using the Philly shell defense and countering more aggressively with his left. As the round reaches its final minute, Billy pivots hard and, although fighting from a traditional stance, delivers a powerful left uppercut (southpaw, from which the film takes its title) which sends the champion down to the ground. Miguel manages to get up before the count is over and is saved by the bell. Billy is declared the winner by a split-decision and reunites with Leila in the locker room, where she forgives his past mistakes and they embrace.
[imdb id="tt1798684″]
Do utraty sił / Southpaw (2015) PL BDRip XviD-RAiN
Do utraty sił / Southpaw (2015) PL.SUBBED.WEB-DL.XviD-KiT