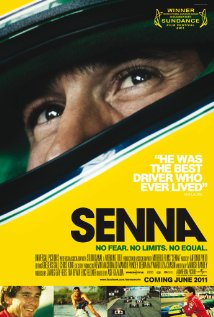 Senna (2010) 

gatunek: Biograficzny, Dokumentalny, Sportowy, LEKTOR.PL
OPIS: "Senna" to oparta na faktach historia o brazylijskiej legendzie wyścigów samochodowych, kierowcy wyścigowym Ayrtonie Senna, który przez wielu jest uważany za najlepszego kierowcę wszechczasów. Oprócz niepowtarzalnej kariery Senny w Formule 1, film obejmuje jego fizyczną i duchową podróż przez życie, zarówno na torze wyścigowym jak i poza nim. Pokazuje jego dążenie do perfekcji oraz przemianę niesamowicie uzdolnionego nowicjusza, którego talent eksplodował w F1 w roku 1984, w kierowcę-legendę, co nastąpiło po tragicznych wydarzeniach z toru Imola w 1994 roku. Film powstał w pełnej współpracy z rodziną Senny oraz zarządem Formuły 1 i jest pierwszym oficjalnym dokumentem o życiu Senny; zawiera porywające materiały archiwalne, których wiele ujrzymy po raz pierwszy.
PLOT: The film begins with Senna's arrival into Formula One during the 1984 season, briefly covering his time at Toleman and Lotus before concentrating on his time with the British team McLaren – the association that brought his rise to global fame – and becoming a World Champion. The drama of this period of his career centers on his rivalry with his team mate Alain Prost, and his political struggles with the then head of FISA Jean-Marie Balestre, climaxing during the 1989 and 1990 seasons, when Senna and Prost were involved in controversial clashes which decided the drivers' world championship title, in 1989 for Prost and in 1990 for Senna.
The film portrays the increasingly complex dynamics and tumult that characterized Senna's years as world champion, his battle to improve his sport's safety, and his reactions as he witnesses accidents and eventually death of Austrian fellow-driver Roland Ratzenberger the day before his own. We see and hear through Senna's point of view that innovative computerization led in these years to the technological domination of the Williams cars, with Prost joining Williams and, in a fallout with Senna, refusing to be on a team with Senna any more. The documentary reaches its finale as Prost retires and Senna takes up a champion driver spot with Williams, the Grove-based team in 1994, just as Formula One rules change, disallowing computerization, and the Williams' cars undergo rapid reconfiguration that proves fatal. In the culminating weekend of his life, at the that year's San Marino Grand Prix, footage shows Senna under extreme stress, troubled as safety conditions reveal their weaknesses in one track accident after another over three consecutive days. Rubens Barrichello is injured in a crash during Friday qualifying, Ratzenberger is killed in an accident during final qualifying on April 30, and at the start of the race JJ Lehto stalls and is hit at high speed by Pedro Lamy. The safety car is brought out, and when racing resumes on lap 7, Senna crashes fatally. The film concludes with the Senna family and his close friends from Formula One mourning his loss at his funeral.
produkcja: Francja, Wielka Brytania
czas trwania: 1 godz. 45 min.
data premiery: 2010-10-07 (Świat)
PL.BRRip