The Black Shield Of Falworth / Czarna tarcza rodu Falworth (1954) BDRip x264-VoMiT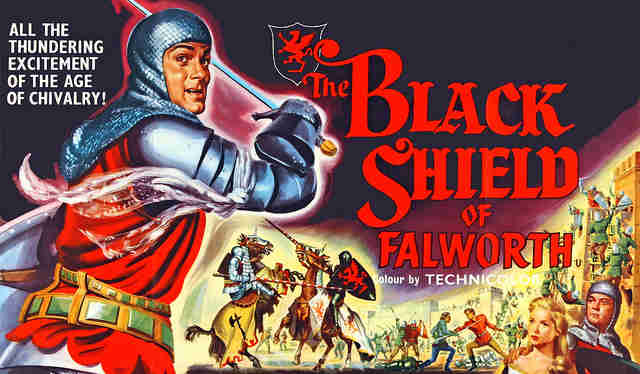 OPIS FILMU – Myles (Tony Curtis) i Meg (Barbara Rush) są rodzeństwem, które za panowania króla Henryka IV (Nat Russell) dorasta wśród chłopów, nie wiedząc kim tak naprawdę był ich ojciec. Pewnego dnia oboje udają się w podróż do Mackworth. Niedługo po przybyciu na miejsce Myles zakochuje się w Anne (Janet Leigh), córce pana na zamku, Williama (Herbert Marshall). Młodzieniec po pewnym czasie zaczyna w twierdzy zawierać pierwsze przyjaźnie i robić sobie pierwszych wrogów, a także uczy się jak być rycerzem. Kiedy dowiaduje się o swoim pochodzeniu, pragnie odzyskać należne mu z tytułu urodzenia mienie, zagrabione przez złego earla z Albanu, Gilberta (David Farrar). Chłopak wraz z earlem Williamem i jego przyjacielem, księciem Halem (Dan O'Herlihy), wyrusza odzyskać czarną tarczę rodu Falworthów.
PLOT – Technicolor & tights. In the days of King Henry IV, stalwart young Myles and his sister Meg have been raised as peasants, without any knowledge of who their father really was. But one day they journey to Macworth castle. There Myles falls in love with the Mackworth's daughter Anne, makes friends and enemies, and learns to be a knight so that, through the planning of Mackworth and his friend, Prince Hal, Myles can regain his true birthright from the evil Albon, and bear the black shield of Falworth.
GATUNEK – Przygodowy, Romans, Historyczny
[imdb id="tt0046789″]
The Black Shield Of Falworth / Czarna tarcza rodu Falworth (1954) BDRip x264-VoMiT