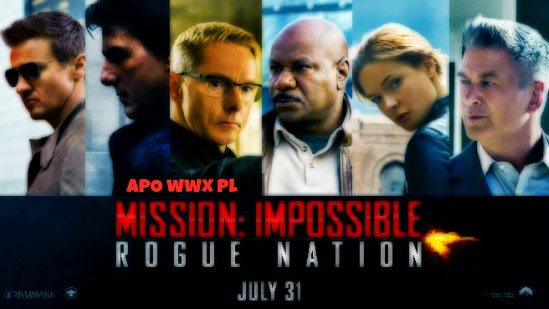 Mission: Impossible – Rogue Nation / Mission Impossible 5 (2015)
GATUNEK – Akcja, Przygodowy, Thrille  LEKTOR PL
OPIS FILMU – Ethan Hunt (Tom Cruise) powraca, stawiając czoła najbardziej nieprawdopodobnej misji, z jaką przyszło mu się zmierzyć. Mission: Impossible. Rogue Nation.
Losy IMF, rządowej agencji szpiegowskiej, od dawna wisiały na włosku. Teraz wydaje się, że to koniec. IMF zostało oficjalnie rozwiązane, a jej zadania przejęły siły CIA. Ale światu grozi prawdziwe niebezpieczeństwo, eskalacja zamachów terrorystycznych, za którymi stoi mityczny Syndykat – ekstremalnie niebezpieczna, perfekcyjnie wyszkolona, pozbawiona skrupułów sieć renegatów. O Syndykacie słyszał każdy szpieg i rząd każdego państwa, nikt nigdy nie udowodnił jego istnienia. Nie wierzy w nie nawet CIA. Ale Syndykat istnieje naprawdę i właśnie szykuje się do przejęcia kontroli nad światem. Członkowie IMF są w śmiertelnym zagrożeniu. Ale Ethan Hunt nigdy nie zostawił swoich przyjaciół w potrzebie.
W tej rozgrywce przyjdzie mu udowodnić każdą umiejętność, której kiedykolwiek się nauczył. Z Wiednia do Casablanki, z poderwanego w przestworza samolotu do morskich głębin – to najbardziej ekstremalna misja Hunta. I choć mówi się, że wśród agentów nie ma przyjaźni, Ethan udowodni swoje przywiązanie i lojalność.
W piątej części "Mission: Impossible" ponownie zobaczymy Jeremy'ego Rennera jako Williama Brandta, Simona Pegga, który wcieli się w postać Benjiego i Vinga Rhamesa w roli Luthera Stickella. W filmie wystąpiła również szwedzka aktorka Rebecca Ferguson (znana z "Herculesa"), wcielająca się w niejednoznaczną postać agentki Ilsy Faust, pracującej dla Syndykatu. Na ekranie zobaczymy także trzykrotnego laureata Złotego Globu – Aleca Baldwina (w roli szefa CIA – Alana Hunleya).
PLOT – After intercepting nerve gas being sold to terrorists, Impossible Missions Force (IMF) agent Ethan Hunt (Tom Cruise) is convinced he can prove the existence of the Syndicate, an international criminal consortium the Central Intelligence Agency (CIA) does not believe exists. Hunt is captured by the Syndicate, but escapes a torture chamber led by Syndicate member Janik "Bone Doctor" Vinter (Jens Hultén) with the help of MI6 agent and Syndicate operative Ilsa Faust (Rebecca Ferguson).
CIA Director Alan Hunley (Alec Baldwin) and IMF agent William Brandt (Jeremy Renner) testify before a Senate committee. The IMF, currently without a secretary in charge, is controversial because of its destructive methods. Hunley, who dislikes Hunt, succeeds in having the IMF disbanded and absorbed into the CIA; Brandt warns Hunt to stay undercover. Cut off from the IMF, Hunt follows his only lead: A blond man in glasses, later identified as former MI6 agent Solomon Lane (Sean Harris).
Six months later, Hunt remains a fugitive. Unable to find the Syndicate without help, he recruits former colleague Benji Dunn (Simon Pegg) to attend the opera Turandot in Vienna to search for Lane, who he suspects is the Syndicate's leader. Despite stopping three snipers including Faust, Hunt is blamed for the death of the Austrian Chancellor (Rupert Wickham).
Brandt recruits former agent Luther Stickell (Ving Rhames) to find Hunt before the CIA's Special Activities Division kills him. Using a likeness of Faust left by Hunt, Brandt and Stickell track Hunt, Dunn, and Faust to Morocco, where the latter group infiltrates a secure server beneath a power station by changing access control data stored in a underwater turbine tank. After having stolen what they believe to be a ledger containing the names of all Syndicate agents, Faust betrays the others and flees with the data on a USB flash drive; Ethan, his group, Brandt and Stickell, and Syndicate members chase Faust. Faust escapes, but Dunn has already made a copy of the data.
Faust returns to London and attempts to use the file to end her mission to infiltrate the Syndicate, but her MI6 handler, Attlee (Simon McBurney), compels her to continue. She and Lane learn that Attlee wiped the drive, which contained an encrypted, British-government red box that requires the Prime Minister's biometrics to unlock. The former IMF agents confront Faust, but when Lane's men abduct Dunn, they are told they must deliver a decrypted copy of the drive to Lane. Despite the others' objections, Hunt realizes Lane will always have a plan to acquire the files; believing the way to stop him is to confront him, Hunt agrees to the ultimatum.
As part of Hunt's plan, Brandt reveals their location to Hunley. At a London charity auction, Hunley, Brandt, and Attlee take the Prime Minister to a secure room to protect him from Hunt. Attlee reveals himself as a disguised Hunt and has the Prime Minister confirm the existence of the Syndicate, a classified proposed project to perform missions without oversight. When the real Attlee arrives Hunt forces him to admit that he began the Syndicate without permission, and has been covering up its existence since Lane hijacked the project and went rogue.
Stickell discovers the file actually contains access to billions in currency. Hunt destroys the file and tells Lane he memorized the data, to force Lane to release Dunn and Faust in exchange for what he knows. Dunn escapes to Stickell and Brandt while Ethan and Faust are separated as Vinter and his men chase them through London. Faust kills Vinter in a knife fight, while Ethan lures Lane into a bulletproof cell where he is gassed, just as he had gassed Hunt to capture him initially, and taken into custody.
Hunley and Brandt return to the committee. Hunley requests the reinstatement of the IMF, claiming that he wanted to disband it to allow Hunt to go undercover; the Senators agree. Brandt congratulates Hunley, the new IMF Secretary.