Uwantme2killhim? / U Want Me 2 Kill Him? (2013)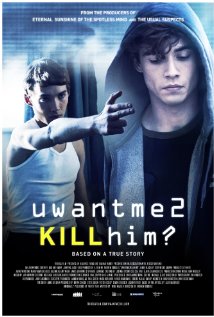 OPIS FILMU –  Film oparty na prawdziwych wydarzeniach mających miejsce w 2003 roku w Wielkiej Brytanii. 16-letni Mark (Jamie Blackley) poznaje przez internet tajemniczą Rachel (Jaime Winstone). Gdy znajomość rozwija się, a intensywność spotkań w sieci wzrasta, Mark zakochuje się w dziewczynie i jest gotów zrobić dla niej wszystko. Kiedy Rachel zostaje zamordowana, chłopak podejmuje nadzwyczajne działania, by pomścić jej śmierć, przyciągając uwagę tajnego departamentu rządowego.
PLOT: Detective Inspector Sarah Clayton (Joanne Froggatt) tries to establish why British schoolboy Mark (Jamie Blackley) would want to stab John (Toby Regbo). The two were supposed to be friends, yet Mark claims that the crime was necessary. As she looks deeper into the crime and the two teenagers, she discovers that Mark frequented chatrooms and became fascinated with Rachel (Jaime Winstone), a woman he met in one such room. With her prompting he agrees to make friends with her brother John. Mark quickly begins to fall for her, sympathizing with her tales of domestic abuse by her boyfriend Kevin (Mingus Johnston) while believing that they cannot meet because she's in a witness protection program. He's horrified when John informs him that Kevin has killed Rachel, prompting Mark to begin planning revenge against Kevin. Mark's sanity has been slowly coming apart during the film, culminating in Mark beginning his plans to stab John after another online friend, MI5 agent Janet (Liz White), tells him that John is a person of interest to the agency. It's eventually revealed that John orchestrated the entire thing and that there is no Rachel or Janet, and that he pretended to be various people in order to get to Mark.
produkcja: Wielka Brytania
gatunek: Dramat, Thriller
czas trwania: 1 godz. 28 min.
data premiery: 2013-06-25 (Świat)
Director: Andrew Douglas
Writer: Mike Walden
Stars: Jamie Blackley, Toby Regbo, Joanne Froggatt