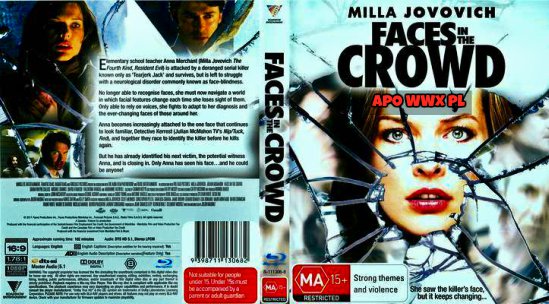 Twarze w tłumie / Faces in the Crowd (2011) 
GATUNEK – Kryminalny, Dramat, Mystery, LEKTOR.PL
OPIS FILMU – Anna Marchant (Milla Jovovich), nauczycielka szkoły podstawowej, śpieszy na spotkanie w gronie najbliższych przyjaciół. W drodze do umówionego miejsca, Anna jest świadkiem morderstwa. Zauważona przez seryjnego mordercę
rzuca się do ucieczki. Jednak mężczyzna jest szybszy i dogania ją na moście. Podczas szamotaniny Anna spada z mostu, uderza się w głowę i trafia do szpitala, gdzie przebywa w śpiączce przez tydzień. Po odzyskaniu przytomności, okazuje się, że Anna cierpi na zanik pamięci spowodowany urazem mózgu. Kobieta nie rozpoznaje twarzy
najbliższych jej osób i nie jest w stanie pomóc w sporządzeniu rysopisu mordercy. Sprawę prowadzi Sam Kerrest (Julian McMahon), który za wszelką cenę chce dopaść sprawcę.
PLOT – Anna Marchant (Milla Jovovich) witnesses a murder by serial killer Tearjerk Jack (David Atrakchi). Jack chases and attacks her, but she eludes him by falling from a bridge. Anna wakes from a coma one week later and is diagnosed with prosopagnosia, also known as "face blindness". Able to recognize objects but not faces, she works with police detective Sam Kerrest (Julian McMahon) to stop Tearjerk Jack before he can murder her.