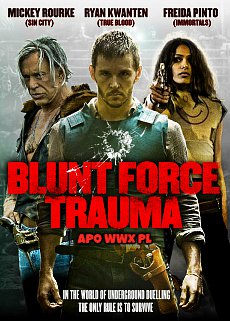 (2015)
GATUNEK: Akcja, LEKTOR.PL
OPIS FILMU: Film przedstawia losty Johna i Colta – dwóch współczesnych rewolwerowców, biorących udział w organizowanych nielegalnie pojedynkach. Pewnego dnia w ich życie wkracza tajemnicza dziewczyna.
PLOT: From cockfighting rings and train yards, to basements and barns across South America, modern-day warriors put on bulletproof vests and duel one another in underground gunfights to gain riches and respect. It's known only as the Game and Zorringer (Mickey Rourke Iron Man 2) is its elusive champion.
Our hero, John (Ryan Kwanten True Blood), is looking for the ultimate duel with Zorringer while Colt (Freida Pinto Rise of the Planet of the Apes) is seeking revenge for the death of her brother. The two gunslingers travel from one shootout to another on a dangerous journey of love, violence and clandestine battles.