Kids vs Monsters (2015) 720p HDRiP HEVC x265 AC3-MAJESTIC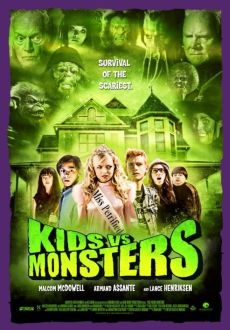 OPiS FiLMU – Szóstka najbogatszych ludzi na świecie wysyła swoje krnąbrne dzieci do nawiedzonego domu, aby znajdujące się tam duchy i potwory odpowiednio je nastraszyły.
PLOT – The six richest people in the world – Damian Knight (Assante), Greg Lovett (Paul), Charles Chance (Atkins), Francine Gingerfield (Lee Purcell), Maxine Fitmore (Mary Birdsong) and Cecilia Sealskin (Candace Elaine) – each have one thing still dragging them down…their intolerable kids. Luckily, there is a mysterious entity known as The Boss (McDowell) who with his assistant Heinrich (Henriksen) is happy to help. See, he has some monsters of his own, and they are just dying to test out their skills. One house. Six kids. Seven monsters. Who will be left standing? It's time for a showdown.. it's Kids Vs Monsters!
GATUNEK – Fantasy
[imdb id="tt3500724″]
Kids vs Monsters (2015) 720p HDRiP HEVC x265 AC3-MAJESTIC