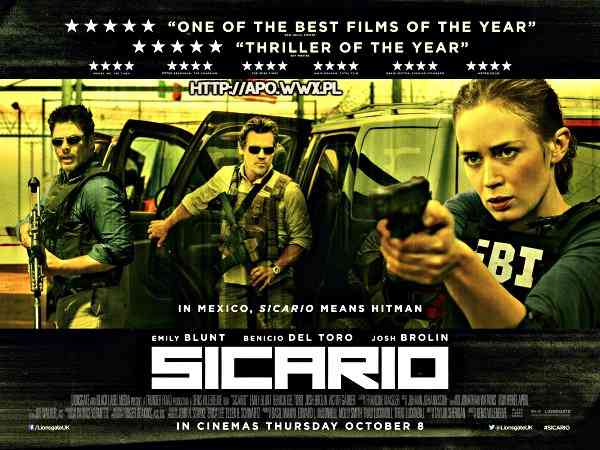 SICARIO (2015) 
GATUNEK – Dramat, Kryminalny, LEKTOR.PL
OPiS FiLMU – Główna bohaterka, od pierwszych dni pracy w CIA, wywalała drzwi z buta, by wsadzić za kratki liderów karteli narkotykowych. Gdy nadarza się okazja upolowania prawdziwie grubej ryby, kobieta staje przed największym wyzwaniem w życiu i jest to wyzwanie moralne.
Już pierwsze sekundy, pierwsze ujęcia filmu, wprowadzają nas w stan głębokiego skupienia, a niepokojąco pulsująca muzyka wciska w fotel jeszcze głębiej.
Realizm i surowość to słowa, które najlepiej oddają to co dzieje się na ekranie. Jest brutalnie, brudno i szalenie wciągająco. Choć fabularnie można mieć tu pewne zastrzeżenia (przewidywalność, brak oryginalności historii), to jednak sposób realizacji sprawia, że o "Sicario" trudno będzie zapomnieć.
Doskonale dobrano aktorów. Emily Blunt jako agentka CIA, zderzająca się z prawdziwym obliczem walki zprzestępczością zorganizowaną w Meksyku, jest bardzo wiarygodna. Świetnie ukazano przemianę jaka w niej zachodzi. Filmowa Kate Macer z twardo stąpającej po ziemi kobiety, która nie jednego gangstera aresztowała, z czasem staje się zagubioną dziewczynką, która musi odróżnić dobro od zła.
Pochwały należą się także męskiej części obsady. Josh Brolin jako zwierzchnik bohaterki, wprowadzający ją w realia walki z meksykańskimi kartelami narkotykowymi, wypada bardzo dobrze. W jednej chwili jest dobrodusznym dowcipnisiem, by zaraz stać się surowym i wymagającym przełożonym. Podobnie możnaocenić Benicio Del Toro. Jako zagadkowy "demon w ludzkiej skórze", stanowi  tu ciekawą , charyzmatyczną postać, która  z czasem okazuje się kluczowa dla przebiegu historii.
"Sicario" to film, który od początku przykuwa uwagę widza i robi bardzo wiele by ją później utrzymać. Ciekawa praca kamery, imponujące ujęcia na brudne dzielnice meksykańskich miast, świetne aktorstwo i fantastyczna muzyka sprawiają, że każdy fan kryminałów będzie zachwycony.
PLOT – During a drug raid in Chandler, Arizona, idealistic FBI Special Weapons and Tactics Teams agent Kate Macer (Emily Blunt), her partner Reggie Wayne (Daniel Kaluuya), and the rest of her team discover dozens of corpses within the walls of a house along with explosives in the backyard shed, which detonate and kill two officers and wound Kate. Her boss, Dave (Victor Garber), recommends her to Matt Graver (Josh Brolin), a Department of Defense adviser leading a team of elite agents who are searching for the men responsible, one of them being jefe Manuel Diaz (Bernardo P. Saracino). Kate agrees to volunteer, eager to finally make a difference.On the plane to El Paso, Texas, Kate meets Matt's partner, Alejandro (Benicio del Toro). She learns en route that they will actually be going to Juarez, Mexico instead, where they will extract a prisoner, Guillermo (one of Diaz's top men), for questioning. While crossing back onto American soil, Matt, Alejandro, and their team intercept a group of men in a traffic jam and then open fire on them when they exit their cars and pull out their firearms, killing them. Kate is appalled by the lack of concern for civilian safety, but Matt tells her that what they did was for the best. After interrogating and torturing Guillermo, they learn the details of Diaz's hideout.
While Alejandro and Matt question a group of Mexican migrants for more information, Kate calls Reggie to join her, also acting as emotional support. With the help of a select few of the migrants, they tell Alejandro and Matt the exact whereabouts of the hideout. Matt then moves ahead by finding Diaz's money launderers to the bank where they deposit his money, arrest them, and freeze all of Diaz's assets. Kate, believing they can arrest Diaz with this information, gets records of the transactions, but Matt forbids her from going forward, telling her that arresting Diaz will end their trail to his boss, Fausto Alarcon (Julio Cedillo). After reporting this to Dave, he essentially tells her the same thing.
Infuriated, Kate and Reggie drink at a bar, where he introduces her to one of his colleagues, a local cop named Ted (Jon Bernthal). As they begin to have sex in her apartment, she discovers that he owns a rubber armband that was used to bundle Diaz's laundered money. Trying to restrain him, a struggle ensues, which ends with Ted nearly killing Kate, only for Alejandro, alerted by the noise, to stop him. After Alejandro and Matt threaten the lives of his family and himself, Ted gives the names of all other local cops working for Diaz.
The next morning, Matt and his team prepare to capture Diaz, who is being called back to Alarcon, and lead them to him. Under the cover of night, they raid the hideout, where Alejandro kidnaps one of Diaz's mules, a police officer named Silvio (Maximiliano Hernández), where he refers to Alejandro as "Medellín." Kate manages to overhear this, and after she aims her gun at Alejandro, he shoots her in her bulletproof vest and drives away with Silvo. At the entrance, Kate attacks Matt, demanding answers. Matt explains that he is restoring power to the Medellín Cartel, who are in the pocket of the CIA, and that killing Alarcon, who is also responsible for the brutal murders of Alejandro's wife and daughter, will put them back in power and allow drug trafficking to continue under their full supervision.
Alejandro and Silvio manage to catch up with Diaz, and after he pulls him over and makes him discard his weapon, Alejandro kills Silvio and wounds Diaz. Diaz then drives Alejandro to Alarcon's estate, where Alejandro kills Diaz and Alarcon's guards, and then finds Alarcon and his family eating dinner. Alarcon mocks Alejandro at first, stating a lack of difference in himself and the team he works for, as well as implying that his wife would not approve of his actions. Alejandro kills his wife and two children first before shooting him last.
The next morning, Alejandro sneaks back into Kate's apartment, where he gives her a waiver to sign stating that everything they did together was completely legal. Ashamed and dishonored, she refuses, but finally relents when Alejandro holds her at gunpoint, stating that she is not cut out for her line of work before leaving. Kate then points her gun at him from her balcony, and after he stops and turns to face her, she lowers her weapon, allowing Alejandro to walk. In Mexico, Silvio's now-widowed wife attends her son's soccer game, which is briefly interrupted by gunfire heard in the distance.
https://app.box.com/s/fkxyd05i1get45g81al6styyuqc1zhs5