The Night of the Generals / Noc Generałów (1967) iNTERNAL BDRip x264-LiBRARiANS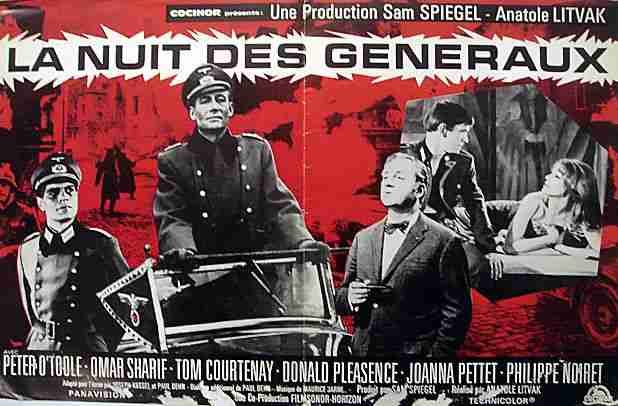 OPiS FiLMU – Zabójstwo prostytutki w nazistowskiej i okupowanej Warszawie podejmuje major Wehrmachtu Grau. W śledztwie dowody wskazują na jednego z trzech wysokich rangą generałów. Poszlaka prowadziła z Warszawy do Paryża prosto do 1944 roku, do spisku przeciwko Hitlerowi. Sprawa majora nie została zakończona aż do 1965 roku kiedy to prawdziwy zabójca został doprowadzony przed sąd.
PLOT – In 1942 Warsaw, a Polish prostitute is murdered in a sadistic way. Major Grau, an agent from German Intelligence who believes in justice, is in charge of the investigation. An eyewitness saw a German general leaving the building after a scream of the victim. A further investigation shows that three generals do not have any alibi for that night: General Tanz, Maj. Gen. Klus Kahlenberge and General von Seidlitz-Gabler. The three avoid direct contact with Major Grau and become potential suspects. As Major Grau gets close to them, he is promoted and sent to Paris. In 1944 Paris, this quartet is reunited and Major Grau continues his investigation. Meanwhile, a plan for killing Hitler is plotted by his high command; a romance between Ulrike von Seydlitz-Gabler and Lance Cpl. Kurt Hartmann is happening and Insp. Morand is helping Major Grau in his investigation. The story ends in 1965, in Hamburg, with another, similar crime.
GATUNEK – Kryminalny | Dramat | Mystery | Thriller | Wojenny
[imdb id="tt0062038″]
The Night of the Generals / Noc Generałów (1967) iNTERNAL BDRip x264-LiBRARiANS