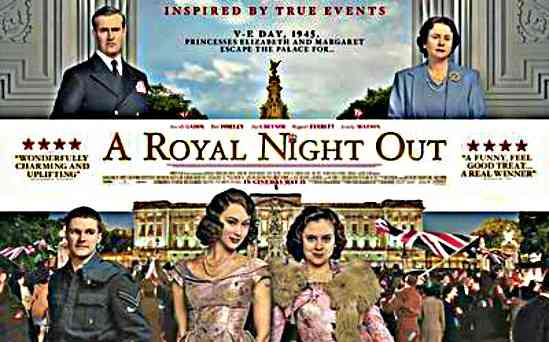 Randka z królową / A Royal Night Out (2015) 
GATUNEK – Dramat, Romans / LEKTOR.PL
OPiS FiLMU – W "Jak zostać królem" poznaliście ich ojca, teraz czas, żeby podejrzeć jak żyją księżniczki. W nowej komedii o rodzinie królewskiej zobaczycie kulisy nocnej eskapady dwóch nastoletnich księżniczek, z których jedna – Elżbieta II, rządzi teraz Wielką Brytanią. Elżbieta i jej młodsza siostra Małgorzata wymykają się z oficjalnego przyjęcia w hotelu Ritz w Londynie. Podekscytowane ruszają w miasto. Kiedy Małgorzata znika w tłumie wraz z grupą świętujących kapitanów marynarki, Elżbieta wpada (dosłownie!) w ramiona młodego lotnika – Jacka. Zderzenie odmiennych światów tej nietypowej pary doprowadza do serii zabawnych pomyłek. Szczególnie, że Jack nie wie kim jest Elżbieta, ona zaś nie zna jego tajemnicy. Próbując odnaleźć Małgorzatę, jednocześnie uciekają przed dwoma wysłannikami Królewskiej Gwardii.
PLOT – On V.E. Day in 1945, as peace is declared across Europe and London is celebrating, Princesses Elizabeth and Margaret are allowed to join the celebrations, against the Queen'swishes. The King, impressed by Elizabeth's pleading, asks her to report back on the people's feelings towards him and his midnight speech on the radio.
Each girl, incognito, is given a chaperone of an army officer, and an itinerary to be back at Buckingham Palace by 1am. Soon realising the planned itinerary by the Queen does not live up to their expectations of fun and meeting the ordinary people, Margaret is the first to slip away from her escort followed by Elizabeth.
The Princesses are separated on two different buses, and Margaret is befriended by a Naval Officer seeking to take advantage of what he believes is just an ordinary girl, and Elizabeth by an airman who is absent without leave.
Margaret is led by her Naval Officer into a world of nightclubs, gambling, spiked drinks and brothels. Elizabeth and her airman have their own adventures trying to catch up with Margaret, which take them far beyond the 1am deadline into the early hours of the following morning.