Ready 2 Die (2014) BDRiP x264-PussyFoot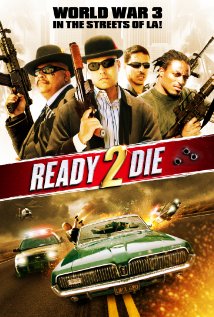 OPIS FILMU:  Po brutalnym napadzie na bank, trójka rabusiów ucieka przez wschodnie Los Angeles niosąc ze sobą zakrwawioną torbę pełną pieniędzy. Wieść szybko roznosi się po mieście i cała trójka musi stawić czoło gangom, a także skorumpowanej policji.
PLOT: After a violent bank robbery, the trio of hoods make their way across East L.A. carrying a blood-soaked bag of money. When word gets out, they must fend off gangs and crooked cops alike as they strive to keep the loot and stay alive.
gatunek: Thriller
produkcja: USA
premiera: 27 kwietnia 2014 (świat)
reżyseria: John Azpilicueta
scenariusz: Ted Grau, John Azpilicueta
Stars: Pablo Hernandez, Jacob Martinez, John Azpilicueta
Ready 2 Die (2014) BDRiP x264-PussyFoot
Ready 2 Die (2014) WEBRip x264-AQOS